How to Troubleshoot Dimension One Spas
Nothing is more disappointing than planning to enjoy a relaxing dip in the spa, only to find out that there is a malfunction. Your Dimension One spa may not be working properly for a number of reasons, including incorrect water temperature or error messages on the display.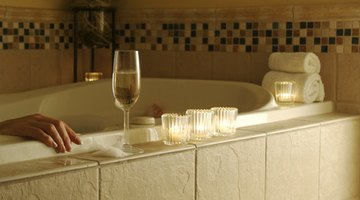 With a little patience and the right troubleshooting tools, you will be able to get your spa up and running again.
Check the temperature of the water in your spa. If the water is not getting hot enough, there are three possible problems -- the temperature setting could be too low and need adjustment on the control panel, the filter could be dirty and in need of cleaning, or there is a malfunction in the flow switch, which needs to be serviced by the dealer. If the temperature is too high, the temperature setting could also be to blame, or the high-limit setting was tripped. If the latter is the case, call the dealer for assistance.

Look at the display. If it is flashing a temperature reading of "34" or "134," there is a failure in one of the temperature sensors. Call the dealer for assistance in fixing the problem.

Look at the temperature level, and if it is too erratic, the water level is likely too low. Fill the water to just below the top of the spa.

Look at the display, and see if it reads "overheat"; if you see this, the spa could be filtering itself too much. Reduce the number of times the filter cycles or the duration of the filter cycle.
References
Resources
Writer Bio
Erin Grady has been writing professionally since 2007. She worked as a television producer for two years, then at an SEO firm. She holds a Bachelor of Arts in international politics from George Washington University and is earning a Master of Arts in public relations from the same university.
Photo Credits
Woman relaxes in a marble tiled bath tub. image by Andy Dean from Fotolia.com
Woman relaxes in a marble tiled bath tub. image by Andy Dean from Fotolia.com
More Articles