What Ingredients Are in Sparkle Paper Towels?
Sparkle paper towels are a cleaning aid, with the ability to absorb liquids. They can be used in the home or for commercial purposes. They are always ready to use and are easily disposed of.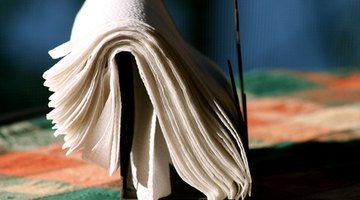 Composition
According to the manufacturer, Georgia-Pacific, the majority of Sparkle paper towels are made of 100 percent virgin fiber. In some parts of the United States, Sparkle products may be made with a percentage of high-grade recycled fiber. They are in full compliance with the guidelines of the Sustainable Forestry Initiative, meaning that all resources tapped for the ingredients of the paper towels were acquired legally and in a manner that will ensure a lush, healthy forest landscape for future generations.
General Uses
Paper towels have various uses around the home such as cleaning surfaces, and can be used with a household cleaner. Spilled liquids can be quickly mopped up, due to the thickness and absorbency of the paper. Kitchen counter tops can be sprayed with an appropriate cleaner, and quickly wiped and dried. Cooking and heating foods in the microwave can be covered by a layer of paper towels to stop splashes, or the paper can be utilised as table napkins. They can be used in restaurants, schools, hospitals, and other places. After use they can be binned or recycled.
Design
Apart from white paper towels, you can buy them with color printed designs to match decor in kitchen and bathroom. They can be bought in different sizes, for instance, if you need a small towel for wiping an apple, you can tear off the 5.5-inch size. If you need a medium size towel, use the 11-inch size. For a large clean-up, you can use a 16.5-inch size (or larger).
References
Writer Bio
Based in Plano, Texas, Marion Hays started working as a freelance writer with various websites in 2010. Her interests include alternative health and sports and fitness, having cycled and run half-marathons for over 20 years. Hays holds a Bachelor of Education degree from the University of Durham, United Kingdom.
Photo Credits
Napkin Profile image by Towards Ithaca from Fotolia.com
Napkin Profile image by Towards Ithaca from Fotolia.com
More Articles