How to Remove a Coffee Stain From Ceiling Paint
Coffee stains are common stains on clothing, countertops, floors and furniture. Your ceiling isn't a common place for this stain, but a major coffee spill or splash can end up affecting your ceiling paint too. Since ceiling paint is made with flat paint, it's not as easy to remove stains as it is with semi-gloss paint.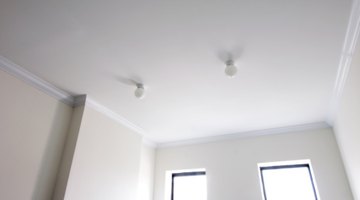 Things You Will Need
Ladder
Bucket
1 cup ammonia
Rubber gloves
Clean cloths
Old toothbrush
All-purpose cleaning spray
Tip
Rub set-in stains out of ceiling paint using fine steel wool. Re-paint your ceiling if many stains have accumulated over the years.
Warning
Avoid abrasive cleansers when removing coffee stains from your ceiling as they will wear off the flat paint.
The most effective remedy is to remove the stain immediately before it has time to set on the surface. If this is not possible, you can still remove the coffee stain.
Set up a ladder beneath the coffee-stained area of your ceiling. Have someone hold the ladder to keep it secure while you're removing the stain.

Mix 1 cup of ammonia with 1 gallon of warm water. Place rubber gloves on your hands to prevent your skin from drying out due to the ammonia solution.

Soak a clean cloth in the ammonia solution and squeeze out excess liquid. Scrub the coffee stain on your ceiling gently, so the stain is removed and not any of the paint. Brush the stain with an old toothbrush dipped in the ammonia solution if the stain is difficult to remove.

Spray all-purpose cleaning spray on your ceiling at the site of the coffee stain. Wipe with a clean cloth to wash off any remaining coffee stain as well as the ammonia solution. Dry with a clean cloth.
References
Writer Bio
Mary Ylisela is a former teacher with a Bachelor of Arts in elementary education and mathematics. She has been a writer since 1996, specializing in business, fitness and education. Prior to teaching, Ylisela worked as a certified fitness instructor and a small-business owner.
Photo Credits
Jupiterimages/Photos.com/Getty Images
Jupiterimages/Photos.com/Getty Images
Wooden ladder image by Tasha from Fotolia.com
used toothbrush image by timur1970 from Fotolia.com
More Articles