Materials Needed to Build a Deck
Adding a deck to the front or back of your home extends your living space into the outdoors. While it is easy to find a reputable contractor who specializes in designing and installing decks, homeowners with the right tools and carpentry experience can build their own deck.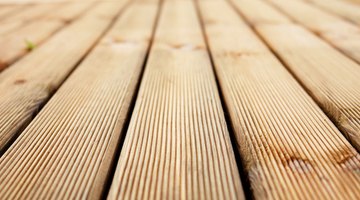 Use the right materials to ensure your deck stays safe and attractive through years of weather exposure and use.
Fasteners
Using the correct fasteners when building your deck can be the difference between a safe structure and a dangerous deck collapse. The North American Deck and Railing Association says that you should use bolts, not nails, especially when attaching the deck to the ledger board on the house. This is the point where most of the stress from the weight of the structure is focused, and tension can easily pull the nails out, resulting in a collapsed deck. Screws are good choices for areas with less stress, such as where individual boards connect to joists.
Concrete
Concrete footings are sections of concrete embedded into the ground that provide a stable support for the posts of the deck. You must pour these footings deep enough to withstand any ground changes when frost occurs in the winter, according to Virginia Decking and Remodeling. You can also use pre-formed concrete piers. Piers go underground as well, but are already shaped and cured. They feature special openings designed for the installation of the posts and don't allow shifting like freshly poured concrete does.
Lumber
High-quality decking boards resist curling or warping that can occur due to moisture and sun exposure, leaving your deck's surface as even as the day you installed it. Hardwoods are generally the best choice for wooden decking boards, especially cedar and redwoods that have natural rot resistance, says Ask the Builder. Plastic-based composite boards are also available that hold up well to weathering, but you can't re-stain them when they fade like you can with wood. Also, many homeowners do not like the look of composite materials, which do not mimic natural styles very well.
Support Plates
Joists and piers are the support structures of the deck, and you must attach them to each other securely for safety. A variety of support plates, including T-shaped brackets and joist hangers, are used in deck building, according to Ask the Builder. Damage can occur when the chemicals used in treated lumber come in contact with the metal of support plates. Look for joist hangers and brackets designed and approved for use with treated lumber, or choose a different deck-building material.
References
Writer Bio
Jessica Kolifrath is a competent copywriter who has been writing professionally since 2008. She is based in the Atlanta area but travels around the Southeastern United States regularly. She currently holds an associate degree in psychology and is pursuing a bachelor's degree in the field.
Photo Credits
Deck de madeira image by CarlosNeto from Fotolia.com
Deck de madeira image by CarlosNeto from Fotolia.com
More Articles