How to Request a Down Payment for a Construction Project
Request a down payment for a construction project by telling the owner of your intentions as early as possible during the contract negotiation process. Owners might be resistant to making payments in advance, but they could assent to this common practice with the assurance that the job will be done when promised. Several methods of requesting construction project payment in advance are available to contractors.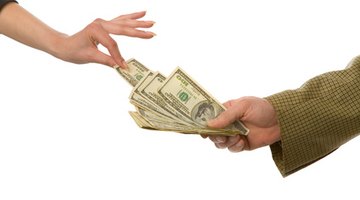 Include the advance payment request early in the contract negotiations. This will provide a measure of the owner's acceptance or resistance to advance the money. When the owner's attitude becomes known, your strategies can be adjusted accordingly. For example: The owner might be reminded of the ongoing rate of inflation. Advanced funds used to purchase material at the current price could save him money. Purchasing the same material at a later date could result in extra expenses due to price increases.

Ask for an amount large enough to avoid future advance payments. An owner resistant to advance payments might be doubly resistant when she suspects the contractor manages money poorly. Another consideration when receiving a large advance payment concerns the prudent use of the funds. Use sound business practices to manage your cash flow by staying within the project's budget. The instant wealth of a large cash advance must be handled carefully.

Use your history of previous projects to assure the owner of the safety of the investment. Provide owners with the names and phone numbers of past project owners. (Verify in advance that past project owners will accept calls of this nature.) Contractors without a good past project history might provide potential customers with the names and numbers of friends and associates. Material suppliers and subcontractors are also a good source for testimonials.

Provide the owner with assurance the advance funds will be used on her or his project exclusively. Some owners may resist making advance payments when they suspect the money might be used to pay off old debts other than their own. In extreme cases, you might offer the owner the option to pay labor and material suppliers directly. This option should be avoided when possible because it does nothing for your cash flow or future credibility.

Follow through with your promises and assurances. Owners on track to becoming friendly future references can turn the other way quickly when they believe they have been misled or mistreated. Your success at doing the things promised in a timely manner creates a platform from which your business can grow and prosper.

Warning

Some states limit the amount of advance payments for construction to a dollar amount or a percentage of the contract price. Verify the rules in your jurisdiction.
References
Resources
Writer Bio
Jonathon Glane is a freelancer who began his writing career in 2006. He is the author of several published and unpublished articles and three novels: "Treasure at Two-Twelve," "Flying Air Electric" and "The Coyote Trap." Glane earned Bachelor of Science and Master of Science degrees in management at Nova Southeastern University and a Ph.D. from Capella University.
Photo Credits
payment image by Valentin Mosichev from Fotolia.com
payment image by Valentin Mosichev from Fotolia.com
More Articles