How to Paint a Plywood Sign
Plywood signs are very popular because they are less expensive than signs of the same size made of plastic or other materials. Plywood signs can be built as large or as small as the builder likes. This gives you the freedom to create a sign for any occasion or business.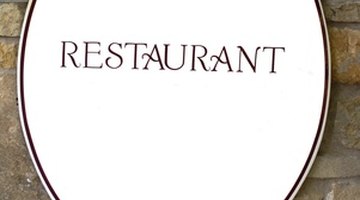 Sand the edges of the plywood to make them smooth and remove any rough sections. Paint-grade plywood is plywood that does not have any knots or rough places on the face of the wood. Pressure-treated paint-grade plywood can also be used if the sign will be close to the ground or in areas that attract termites. Paint-grade marine plywood is suggested for areas that will be moist or wet on a regular basis.

Coat the face or top side of the plywood with the primer. A smooth even coat will provide the best base for the sign. Allow the primer to dry before continuing.

Draw the design for your sign on the plywood with a pencil or grease pencil. The outline of the design will not only keep you on track it will also help you in the order of painting.

Paint the background color first. If the background bleeds over the lines slightly, you can cover it later with the rest of the sign design. When the background is complete, rinse the brushes in water, until the water runs clear and lay the brushes on a paper towel to dry. Allow the background paint to dry.

Paint the rest of the sign, one color at a time. Rinse the brushes and allow the brushes to dry before you start the next color. If the colors are not dry and some paint accidentally gets on another color, it is difficult to fix the mistake. If the color is dry and some wet paint gets on it, the paint can be easily wiped off.

Apply a generous coat of weather sealant to the sign. Weather sealant will give the sign a glossy finish and protect it from the elements that can fade or warp the sign. Climates that are mostly sunny or have a lot of precipitation need to add around two or three coats of weather sealant to the sign.

Things You Will Need

Sandpaper
Paint-grade plywood
Pencil or grease pencil
Design
Primer
Exterior paint
Weather sealant
Paintbrushes
Water
Paper towels
References
Resources
Writer Bio
Donna Armstrong is a freelance writer who has been writing since 2005. She has provided copy for catalogs, newspapers, newsletters, blogs, informational and e-commerce websites. She has written on a variety of subjects including state-of-the-art electronics and household products. She has worked for such websites as Work.com and Realtvaddict.com. She attended the University of Texas, where she studied history and education.
Photo Credits
sign. sign for restaurant image by L. Shat from Fotolia.com
sign. sign for restaurant image by L. Shat from Fotolia.com
More Articles