Basics
Whether you're looking for a cheaper alternative to store bought curtains, or you prefer the creative opportunity that making your own curtains gives you, homemade curtains can be an enjoyable and easy project. Dressing up your windows is a quick way to give any room a new look. Browse through some of the ideas below and combine these with your own creativity to create the perfect look for your home. .
Curtains are a particular style of window treatment, though the phrase is sometimes used loosely to refer to any fabric window covering. Curtains are loose fabric panels suspended from a rod and hung over a window. Most consist of two separate panels that can be drawn back by hand and tied at either side. Curtains are usually light, unlined fabric. Café curtains are those that cover only the lower portion of the window. This design is most commonly used in the kitchen or dining room. To determine the correct size for your curtains, you should begin by measuring the width and length of your window. Measure from the outer corners of the window frame or molding as you will want the window treatment to extend far enough to cover these. The width of your curtains should be approximately one and a half to two times the width of the window. Lastly, every curtain needs a curtain rod. This can be purchased at any hardware store. For a DIY rod, try using painted PVC pipe or even a tree branch, provided that it is relatively straight on either end.
Pooling Curtains
While most curtains are either window length or floor length, going the extra few inches can create a very luxurious look. HGTV Design Star Finalist Alice Fakier is a fan of curtains that pool onto the floor. She suggests adding about 22 inches of fabric to the standard curtain panel to achieve this modern look. Standard curtain panels are 84" long. To achieve this look, purchase extra-long lengths of fabric. Sew a wide hem that is at least three inches. At the top, sew a pocket of fabric the length of the curtain that is large enough for the curtain rod. This works just like the hem, except that it is not sewn shut on the edges. Allow the fabric to pool naturally on the floor, and try to avoid arranging it too much.
Creative Fabric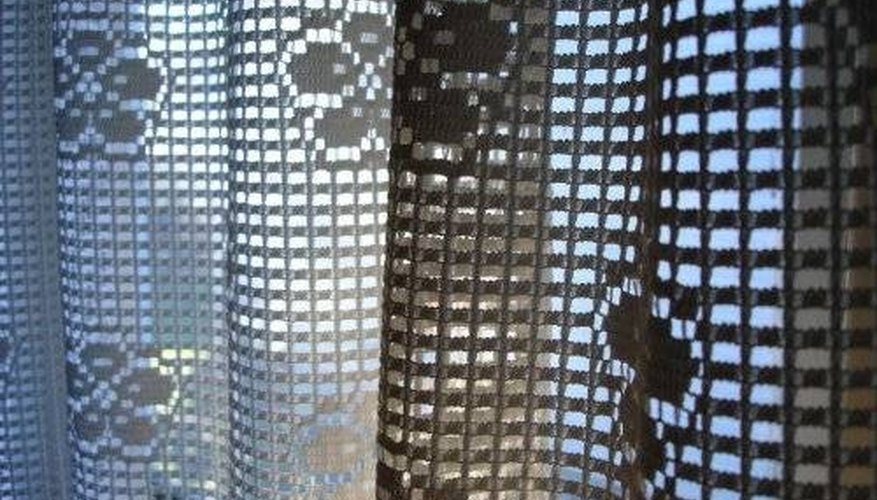 You can use nearly any fabric for homemade curtains. Before you go shopping, consider getting your fabric from an item you already have. Sheets work very well for curtains. The hemming at the top works as a pre-made loop for the curtain rod. Shower curtains can also be cut down to size for window treatments. Simply sew a loop into the top for the curtain rod, or hang your shower curtain hooks over your curtain rod. Other sources for curtain material may come in the form of lightweight tablecloths. Place mats may even come in handy when designing café curtains, or sewn together to make a large piece. If you know how to crochet and like the look of lace or mesh curtains, pick up a book on filet crochet and consider making your own curtains. With this style of crochet, you can create nearly any pattern, and even add your own style of decorative border.
Embellishments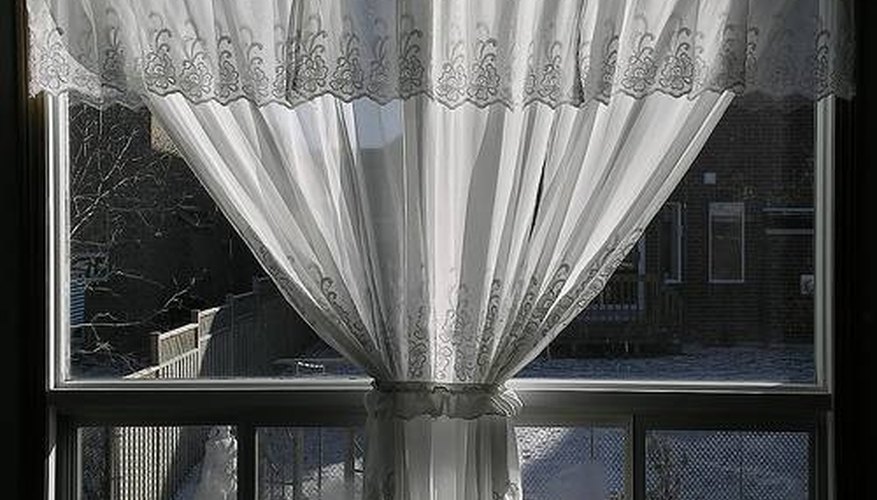 One of the most enjoyable parts of creating homemade curtains is adding your own personal touch to the design. One easy idea for your homemade curtains is to add a ruffle to the inside edge of the curtain (the side that is facing the window on either panel). When tied back, the ruffled edge will frame the window. For a whimsical look, you can add butterflies, flowers, and other 3-D embellishments to your curtains. Simply glue them on at random intervals with a hot glue gun. The curtain ties are another easy place to add a homemade touch to your curtains. Ribbons, bows, rope, and tassels are just some of the materials that you can use as tie backs. Most curtains are tied back to either side of the window, but you can keep your curtain design front and center by tying a single curtain panel in the center of the window.
Colors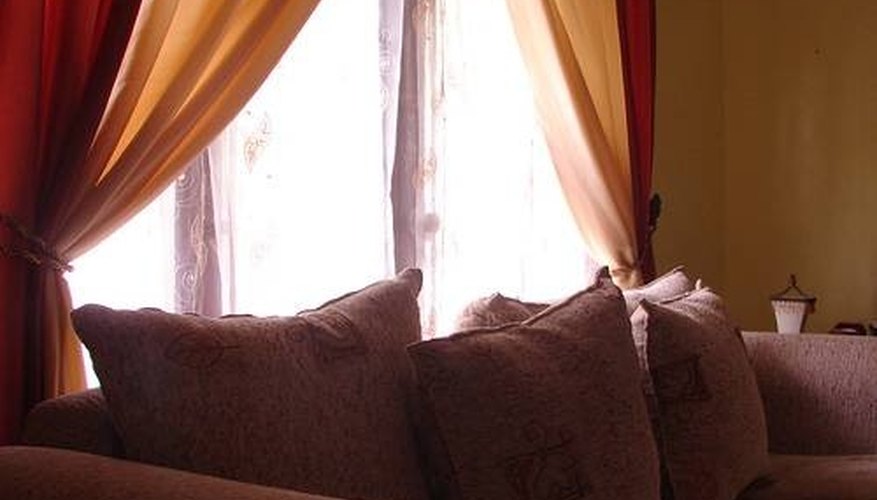 Since homemade curtains are usually straightforward panels of fabric, using a unique color combination is often the best way create a stunning look. Patterns can often look busy, but a bold combination of two colors can work beautifully. The easiest way to accomplish this is to use two panels of fabric on either side of the window, with the lighter color closer to the window and the darker or brighter color on the outside. If you have trouble getting the curtains to lay side by side, sew them together along one edge. Another way to use two colors together is to sew a darker panel of fabric on to the bottom third or fourth of the curtain. This works best with floor length curtains. Sew your curtain so that the darker panel falls just below the window ledge.