How Far Apart Should Bathroom Double Sinks Be?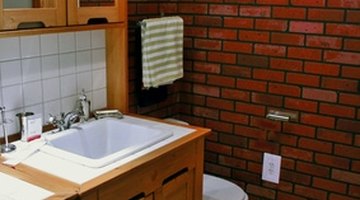 Consider the Space
Double sinks can be very useful in bathrooms used by more than one person. When deciding how to place your sinks, keep in mind the ways each will be used and the amount of counter space needed for those uses. You will also want to consider how the sinks will be arranged in your space. Notice where the users will be standing and what obstructions, if any, might limit their space while using the sink.
Consider the Plumbing
Because both sinks will require hot and cold water supplies, keep in mind the location of any existing plumbing lines as you choose where to place the sinks. Unless you plan to do significant plumbing work, you will want to place the sinks near the existing water lines and also close enough to each other to run from the same water lines.
Bottom Line
In order to tie the water lines supplying the two sinks together, you should space them no further than 30 inches apart measured from the center of each bowl. This will also provide adequate counter space for both sinks and will look good in most any design. Consider the size and shape of your sink in this process as well. Especially wide winks may not be best for a double sink bathroom as they will limit available counter space.
References
Writer Bio
Sarah Sweetman has been writing and copy-editing for more than 20 years. She is a holistic life and wellness coach as well as an avid crafter specializing in beading, wire work and fiber arts. Sweetman has a Master of Interdisciplinary Studies degree and is a doctoral candidate in cultural studies.
More Articles