Designer Tips on Placing a Bed in a Corner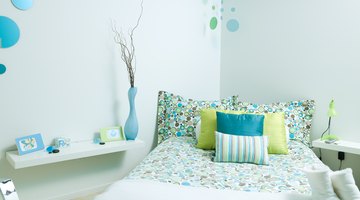 Move away from a traditional bedroom layout by sliding your bed into a cozy corner to add a bit of drama with a touch of creativity. Sometimes it's actually the only viable place for your bed because of fixed features, such as windows, architectural design or custom built-ins. You can make a corner bed work favorably for you when you incorporate professional designer tips to help you with your room layout and furnishings.
Furniture Layout
Because a bed is the star of the show, placing it first in your bedroom will help you settle on the placement of other smaller pieces. Create a computer-generated or pencil-and-paper sketch of your bedroom to help you try out different corners for your bed before you physically move it. Measure your room and furniture pieces and transfer those dimensions to graph paper or a computer design program to generate a bedroom sketch that's to scale. Your kids will love to help you shuffle the paper or virtual furniture around to find the best bedroom corner for your bed. Professional designer guidelines suggest leaving at least 30 inches between a bed and chest of drawers or dresser and a minimum 3-foot clearance for major walkways.
Diagonal Placement
Push your headboard diagonally across a bare corner to add a novel look to an ordinary bedroom. Don't forget about the empty corner space behind your bed -- use it for additional function or decorative accents. Place a tall potted plant behind your bed to fill up the dead space with energetic color and texture or situate a corner table in the space to hold table lamps, books and reading glasses. Anchor your bed in the room by situating a corner shelving unit behind it. The shelves offer convenient storage space for your kid's storybooks when they want to snuggle in bed with you. Float a diagonal corner bed away from the wall by putting an attractive folding screen behind it.
Square Placement
Shove the head of your bed, as well as one side, into a vacant bedroom corner to fashion a space-saving square arrangement. Soften the walls behind the bed by leaning plump bed pillows against the wall. Think about adding a headboard to each side of the bed adjacent to a wall to fashion a stylish finished appearance. Use fabric-covered headboards for soft traditional style or sleek leather ones to convey a modern contemporary edge. Lay oodles of toss pillows along the two headboards to produce a sofa-like space where you can take a quick afternoon nap with your kids.
Other Ideas
Install a ceiling curtain track with floor-to-ceiling draperies around the perimeter of a corner bed to give visual privacy in a studio apartment shared with kids. Maximize the floor space in a bedroom shared by more than one child by situating two sets of bunk beds to create an L-shaped arrangement in an unoccupied corner. Lay a large area rug underneath a corner bed to help define and refine the space. Center a glitzy chandelier over a corner bed to help anchor it in the room while giving your bedroom the ambiance of a five-star hotel.
References
Reference Guide 3; Furniture Layout Guidelines; Sheffield School of Interior Design
Resources
Writer Bio
Mary Cockrill's education and certifications in interior design and home staging have allowed her to author numerous home-related articles. Cockrill has been a top design consultant for a renowned home store and is the owner of Starwood Home & Gifts, LLC, an interior design, decorating and home staging business. She holds a Bachelor of Science in secondary education with a comprehensive major in office administration.
Photo Credits
Jupiterimages/Photos.com/Getty Images
Jupiterimages/Photos.com/Getty Images
More Articles