What Can I Do if My Walls Do Not Have 90 Degree Angles?
Most furniture and building materials assume right angles at the corners of your walls, but not all walls create perfect 90 degree angles, whether by error or design. Odd angles in your room present a design challenge, especially if you are trying to fit shelving or furniture into the oddly-shaped corners. Incorporating the off angles into your design scheme may mean masking the angles or turning them into a focal point of the room.
Shelving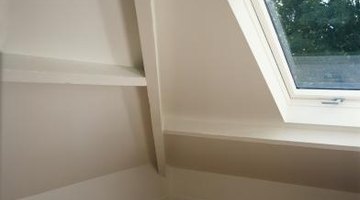 Wall shelves are typically cut at right angles to fit snugly into walls corners, but if your corners aren't perfect right angles, the shelves will look out of place and poorly fitted. Instead of abandoning shelving entirely, modify simple wooden wall shelves to fit your awkward wall. A T-bevel tool is one way to measure the correct angle of your wall and trace the angle onto the edges of your shelves. A length of cardboard is also an option for creating a traceable template; snip the cardboard until you create a tight fit into the angle, and then trace the board onto the wooden shelves and cut them with a radial arm saw. Stagger the shelves on each adjacent wall to work with the off angle.
Working With Curves
Curved edges are not expected to fit into corners perfectly, so utilizing furniture or accessories with curves is an easy way to dress up an oddly angled corner. If your corner is slightly acute, a floor lamp with a circular base or a potted plant in a circular container reduces the impact of the angle while providing a decorative design element. Wider, more obtuse angles are a suitable location for dramatically curved couches and chairs that slide along the walls without snugly fitting into the corner.
Paint and Wall Decals
Contemporary spaces often utilize unexpected angles to create dramatic modern effects. Draw attention to your uncommon corner angles with creative paint and wall decals. Tight, acute angles create dark corners that are difficult to accessorize, but adhesive wall decals add decorative detail to the spaces and visually bring the corner design into the larger area of the room. Select decals with long, elegant lines and secure them to the top or base of the corner; floral decals, vines or geometric sunbursts appear to originate from the tight corner and extend into the room. If your corners are more obtuse, utilize a darker color in the corner to reduce its visual size. A diamond whose center begins on the corner and points extend to the center of each adjacent wall is a dramatic visual option for obtuse corners; opt for a color a shade darker than the rest of the walls for the most effective visual impact.
References
"Let's Ask Michael: 100 Practical Solutions for Interior Design Challenges"; Michael Payne; 2003
Writer Bio
Hannah Wahlig began writing and editing professionally in 2001. Her experience includes copy for newspapers, journals and magazines, as well as book editing. She is also a certified lactation counselor. She holds a Bachelor of Arts in English from Mount Holyoke College, and Master's degrees in education and community psychology from the University of Massachusetts.
Photo Credits
David De Lossy/Photodisc/Getty Images
More Articles