The History of the Franciscan Desert Rose
Franciscan Desert Rose hand-painted earthenware is an American classic that, according to Bob Page and Dale Frederiksen, authors of "Franciscan: an American Dinnerware Tradition," is one of the most popular china patterns in history.
Identification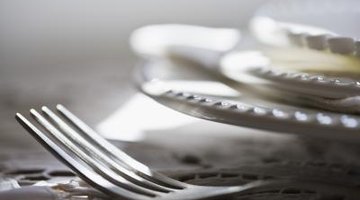 Franciscan desert rose broad-rimmed plates feature scalloped edges. Pink roses and green leaves sit in relief upon a cream ground. Flowers are joined by briar-lined vines around the rim edge.
Gladdings McBean
Franciscan's parent, Gladdings, McBean & Co. (GMcB) was founded as a Los Angeles clay building products manufacturer in 1875. GMcB developed malinite, the basis for its creamy-colored earthenware in 1928.
Franciscan
With the acquisition of Tropico Pottery in 1922 and Catalina Pottery in 1937, GMcB entered the pottery business. The Franciscan pottery line premiered in 1934 and the FDR pattern was introduced in 1941 after Franciscan's 1940 "Apple."
Changes
In 1984, FDR molds and production lines were moved to England by their new owners, Wedgewood Ltd. In 1987, the pattern was acquired by Johnson Brothers, who produced a limited line of 60th anniversary pattern pieces in 2001. All production moved to China by 2004.
Considerations
The malinite formula or original Franciscan molds are not used in Chinese-produced FDR dinnerware. Antique stores and replacement clearinghouses offer many American and English pieces.
References
"Franciscan: an American Dinnerware Tradition"; Bob Page and Dale Frederiksen; 1999
Writer Bio
An avid perennial gardener and old house owner, Laura Reynolds has had careers in teaching and juvenile justice. A retired municipal judgem Reynolds holds a degree in communications from Northern Illinois University. Her six children and stepchildren served as subjects of editorials during her tenure as a local newspaper editor.
Photo Credits
Jupiterimages /Polka Dot/Getty Images
More Articles