How to Decorate a Reclining Couch
A reclining couch can be an appealing seating option after a long day. The ability to lean back and put your feet up to watch TV, read a book or simply relax is an appealing thought to some people. There's no reason this comfortable piece of furniture can't be both functional and visually appealing. Add decorative touches to your reclining couch that add to its design and blend in with the rest of the room's décor.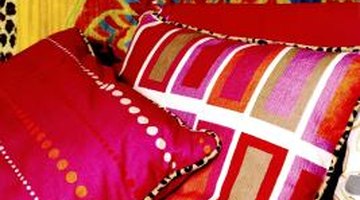 Step 1
Add decorative pillows to each section of the couch that reclines. Select pillows that go well with the color of the couch. Place one in each corner. Add one in the middle if it reclines separately. Stack smaller pillows in a different color in front of the larger ones.
Step 2
Fold colorful blankets in a square and drape one over each reclining segment. Avoid draping them over the cracks in the sofa backing that separate the segments, as when one leans back, the blanket can come off.
Step 3
Make a decorative fabric drape to go over each section of the reclining couch. Cut a thin line of fabric and roll it in a strip. Hang it in a scallop pattern over the couch. Twist two together for color variety.
Step 4
Cut out fabric squares and place one on the back of each seating section to serve as a decorative protective cover for the upholstery underneath.
Step 5
Paint the handles on the sides of the reclining couch to match existing wood trim in the room.
References
Writer Bio
Sarah Schreiber has been writing since 2004, with professional experience in the nonprofit and educational sectors as well as small business. She now focuses on writing about travel, education and interior decorating and has been published on Trazzler and various other websites. Schreiber received a Bachelor of Arts in mass communications.
Photo Credits
Jupiterimages/Photos.com/Getty Images
More Articles