How to Reupholster Without Taking the Whole Couch Apart
Buying a new couch is generally a costly undertaking. You may choose to reupholster the piece instead. This is one of the most cost-effective ways to keep the frame of a nice sofa while updating the upholstery to better coordinate with your home decor. Upholstering, while an accessible project for a layman, is still time-consuming and laborious. If you want to get the look of reupholstering without the hassle of taking the whole couch apart, consider some quick reupholstering tricks to save time.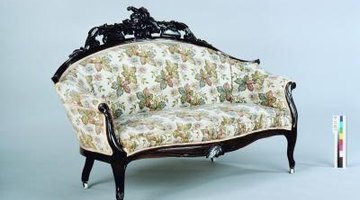 Step 1
Replace the cushion to the couch as needed. Typically, this requires removing the existing cushions and fabric. You can, however, choose to cut new upholstery foam to size and use spray adhesive to attach it to the couch. Staple an even layer of cotton batting over the worn areas.
Step 2
Position new upholstery fabric over the outside sofa back, draping approximately a half-inch over the edge. Drape another piece of fabric over the inside back of the couch and stretch tightly across the width.
Step 3
Place flexible jaw stripping over the top seam of the couch. Hammer it in place gently with a mallet to push the fabric into the seam of the couch.
Step 4
Pull fabric taut to the underside of the couch frame and staple it into place. Then, staple discretely along the inside framing of the couch, pulling taut as you go. Cut off excess material.
Step 5
Cover the cushions of the couch with new upholstery fabric. If the cushion is removable, sew slip covers by doubling the fabric print-side in, sewing along the sides to fit the cushion, turning the fabric right-side out and slipping it over the cushion. If the sofa cushion is not removable, staple the fabric directly to the inside and underside of the sofa frame.
Step 6
Drape fabric over the arm rests. Staple the fabric to the frame of the couch. To upholster around the curves, create small pleats by folding the fabric inch by inch and stapling as you go. If the fabric will not lay flat, cut small vertical slits to help the fabric fall more naturally.
Step 7
Cover staple lines or exposed seams with decorative ribbon or piping. Run a bead of hot glue along the area you want to cover and press the ribbon or piping in place. Cut off excess material.
References
Writer Bio
Liza Hollis has been writing for print and online publications since 2003. Her work has appeared on various digital properties, including USAToday.com. Hollis earned a degree in English Literature from the University of Florida.
Photo Credits
Jupiterimages/Photos.com/Getty Images
More Articles