How to Troubleshoot a Magnavox DP100MW8B
Magnavox, which means "loud voice" in Latin, is a global electronics brand. The Magnavox company invented the first loudspeaker in 1915 and continued through the decades to create innovative technology like the first amplified phonograph, Hi-Fi sound, and the first CD in the United States. The Magnavox DP100MW8B is a DVD player that features a remote control, progressive scan video and Dolby digital stream audio. To troubleshoot your Magnavox DP100MW8B DVD Player, follow certain strategies before calling in a technician.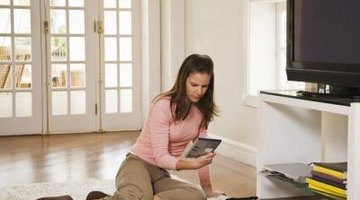 Step 1
Check the power source if your Magnavox DP100MW8B doesn't power on. Ensure that your Magnavox DP100MW8B is plugged in to an electrical outlet properly. Test nearby electronics to see if the outlet has power. Unplug the unit -- if it's plugged in -- for a period of 10 seconds and then plug it back in to reboot the system.
Step 2
Check your TV's cords and cables. Ensure that your TV is plugged in properly and that cables between the wall and TV and DVD player and TV are attached and in the right ports. Run the DVD output connections directly into the TV without any components in-between if no image, or a distorted image, appears on screen. Select "Progressive" from the DVD player's "Display" menu If your TV is progressive scan compatible. Check that the DVD you're trying to play is compatible with your Magnavox DVD player.
Step 3
Make sure that your TV's volume level is set high enough to be heard if your unit is failing to produce sound. Check the audio cables and digital audio connections between the DVD player and TV. If the selected audio format for the DVD you're playing isn't compatible with the TV or audio system through which you are playing it, a lack of sound can result.
Step 4
Open the disk tray and check the DVD itself if the on-screen images freeze in place or don't appear at all. Wipe the disc with a cotton cloth and try another DVD in the player if image problems persist. Review the parental lock settings on your TV that may be blocking R-rated content from playing without the use of a safety code. If you do see an image on screen but still experience trouble with the video, the parental lock also may be the cause. Enter your code as directed on the screen to release the lock. Enter "4737" to clear the parental lock if you forgot your code. Insert a DVD lens cleaner disc If the unit continues to have trouble reading a DVD.
Step 5
Power off your DVD player if there's no on-screen menu once the DVD has been removed or if the machine fails to respond to any buttons being pressed on the unit. Unplug the unit for a period of 10 seconds and then plug it back in to reboot the system.
Step 6
Replace the batteries in your remote control if the DVD player isn't responding to the remote. Check that the batteries are inserted properly. Test your remote's functionality by turning on an AM radio to a high volume and then pressing buttons on the remote and listening for slight sounds of interference. If there's noticeable interference on the radio, the remote is functional.
References
"Owner's Manual DP100MW8B"; Magnavox
"Leaflet DP100MW8B"; Magnavox
Resources
Tips
Keep dust and dirt out of your Magnavox DP100MW8B. Debris can lead to a soiled lens or other internal interference.
Warnings
Never attempt to repair an electronic device while it's plugged in to an outlet.
Writer Bio
Robert Morello has an extensive travel, marketing and business background. He graduated with a Bachelor of Arts from Columbia University in 2002 and has worked in travel as a guide, corporate senior marketing and product manager and travel consultant/expert. Morello is a professional writer and adjunct professor of travel and tourism.
Photo Credits
Jupiterimages/Creatas/Getty Images
More Articles