How Do I Program a Craftsman 53778 Remote?
Craftsman 53778 remotes are designed to control older Craftsman garage door openers that function using the Craftsman Dip-switch system. The Dip-switch programming is completed by matching the settings on the back of the garage door opener with the settings of the remote. The 53778 remote can be used to control up to three electric garage door openers that all function with the Dip-switch technology. You can program your Craftsman 53778 remote yourself with Dip-switch technology.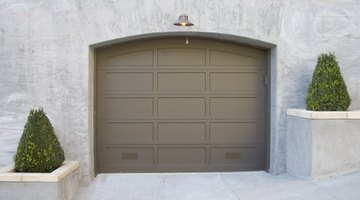 Open the battery compartment cover on your new Craftsman 53778 remote. Open the battery compartment of your existing remote.

Slide the code switches in your new replacement remote to match those on your existing remote.

Reinstall the battery and cover on your new remote and existing remotes.

Locate the SR code button on the back of your garage door receiver. The button is located on the back of your garage door motor. Press the button until the indicator light located next to the button is illuminated.

Stand clear of the garage door, track and motor. Press the desired button on your new remote. The garage door will operate, moving up or down. Repeat these steps to program any remaining doors or remotes.
Check out this related video from Homesteady on Youtube.
References
Tips
Verify that all remote transmitters are set to the same Dip-switch settings for proper operation.
Writer Bio
Based near Kansas City, Mo., Sally Syak began freelance writing in 2010. Her articles appear on various websites, primarily focusing on home improvement, hobbies and business marketing. Syak is pursuing an Associate of Applied Science in occupational therapy at Pennsyvania Valley Community College.
Photo Credits
More Articles