How to Program a Genie Intellicode Garage Door Opener With Homelink
HomeLink is manufactured by Johnson Controls and allows you to communicate wirelessly between your vehicle and your garage door, gate and more. It is compatible with many Genie Intellicode garage door openers.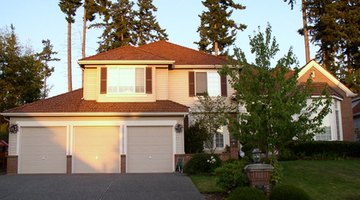 Look for the HomeLink logo on your Genie product or in the instruction manual, and also look for the HomeLink logo in your vehicle or in its documentation. Programming involves pushing a few buttons inside the vehicle.
Insert a fresh battery in the Genie Intellicode garage door opener remote. This ensures accurate transmission of the radio frequency.

Turn the ignition on to the accessory setting inside the vehicle.

Press and hold the two outer HomeLink buttons inside your vehicle. Release them when the HomeLink indicator begins to blink.

Place the Genie Intellicode garage door opener remote 1 to 3 inches from the HomeLink surface over your head.

Press and hold the desired HomeLink button and the Genie Intellicode garage door opener remote button simultaneously. Allow the HomeLink indicator to flash slowly and then rapidly. Keep the buttons pressed until this happens.

Press and hold the trained HomeLink button and look at the indicator light. An unblinking light indicates training is complete. Because the Genie Intellicode garage door opener remote has a rolling code security system, a further step will be required when the indicator light flashes rapidly for two seconds and then turns solid.

Press the Learn button on the garage door motor. Within 30 seconds, return to the vehicle and press and hold the HomeLink button you trained in Step 5 for two seconds. Repeat the press, hold and release sequence up to three times.
Writer Bio
Patrick Nelson has been a professional writer since 1992. He was editor and publisher of the music industry trade publication "Producer Report" and has written for a number of technology blogs. Nelson studied design at Hornsey Art School.
More Articles