How to Fit Sectional Sofas in Through a Small Doorway
The average American is larger today than in earlier generations, and furniture manufacturers know this. Much of the furniture manufactured today is oversized, taking bigger bodies into account. When you combine this with the fact that apartment and house doors aren't growing proportionally, you may have a sofa-moving problem on your hands. Savvy movers know there are multiple ways to position furniture to fit through a doorway -- it's all a matter of the measurements.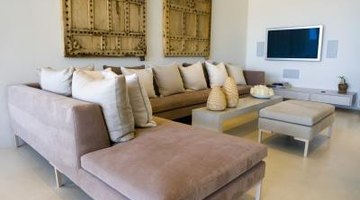 Step 1
Measure the doorway interior, both height and width. These measurements will determine which way to position the pieces of the sectional.
Step 2
Remove any loose cushions from the sections. Remove the feet if they screw off.
Step 3
Measure the height of the sofa, from the bottom of the body, or leg, to the top of the back. Measure the depth of the sofa, from the back to the front of the seating platform. Measure the length of the sofa, from the outside of one arm to the outside of the other.
Step 4
Carry the sections through the doorway upright if the depth of the seat is less than the width of the doorway.
Step 5
Tip the sofa on its face and carry it, back-end-up, if the height of the section is less than the width of the doorway.
Step 6
Stand the sofa on end, with one arm resting on the floor. If the height of the sofa is shorter than the height of the doorway, angle the sections through the doorway. Move the section until it forms a V shape, with the open end facing one door edge and the point facing the other door edge. Push the seat through the doorway first. Pivot the section around until the point of the V goes through the doorway, then push the rest of the sofa through.
Tips
If you can almost, but not quite, fit a section through the doorway, remove the door to add an extra inch or two of room.
Writer Bio
Working in sunny Florida, Anne Baley has been writing professionally since 2009. Her home and lifestyle articles have been seen on Coldwell Banker and Gardening Know How. Baley has published a series of books teaching how to live a frugal life with style and panache.
Photo Credits
Goodshoot/Goodshoot/Getty Images
More Articles