How to Make an Ottoman Foldout Bed
An ottoman foldout bed is a unique and creative way to maximize the number of houseguests you can comfortably accommodate. By incorporating this piece of furniture into your living room, it is possible to sleep an extra person at night and then fold up the ottoman and use it as a functional piece of furniture without having to sacrifice a whole room to the sleeper or even the wall space of a Murphy bed. Rudimentary sewing ability will allow you to create a piece of furniture that is simple yet completely enhanced by this simplicity.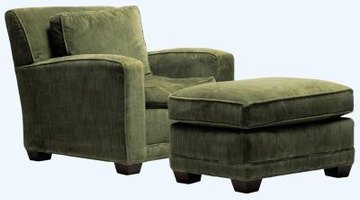 Step 1
Lay out the foam mattress on a protected working surface. Cut the mattress into three or four even sections, depending on your mattress size and desired ottoman shape, making sure the sections are even by measuring them.
Step 2
Sew a fabric sleeve with the exact width and depth of the mattress that is two feet longer than the mattress was originally and has all seams hidden inside. Leave the sleeve open on one of the small ends only.
Step 3
Slide the first mattress piece into the sleeve and push it up to the very end. Sew it in place with a row of horizontal stitching as close as possible to the mattress piece. Leave five inches of space and sew another row of stitching. Slide the next piece of mattress into the sleeve and continue this process until all the pieces have been used up. Cut off any excess fabric. Sew the final piece in place with a row of stitching or hand sew it for a more attractive appearance. Stack the pieces on top of each other in an alternating way to transform the bed into an ottoman.
References
Tips
Use brightly colored fabrics to provide an accent to your living room.
Installing long zippers in the seams of each mattress piece will make the ottoman washable, which is especially desirable to those who will be hosting young children on the ottoman bed.
Warnings
Do not stand on the ottoman foldout bed, as the ottoman is not designed to support that kind of force in one area and will very likely slant to one side or unfold.
Writer Bio
Nat Fondell has been writing professionally since 2006. A former editor of the "North Park University Press," his work has appeared at scientific conferences and online, covering health, business and home repair. Fondell holds dual Bachelors of Arts degrees in journalism and history from North Park University and received pre-medical certification at Dominican University.
Photo Credits
Comstock/Comstock/Getty Images
More Articles