How to Make a Ceiling Using Sheets
When the ceiling you are dealing with is subpar at best, it will affect the entire look of the room. Even if all you have above your head is beams and no ceiling tiles or drywall, you can still improve the look of the ceiling by covering it with sheets. Using sheets is a quick and inexpensive option to cover ugly or nonexistent ceilings. Several options are available for installing the sheets on the ceiling. Choose the option that best fits your specific needs and wants.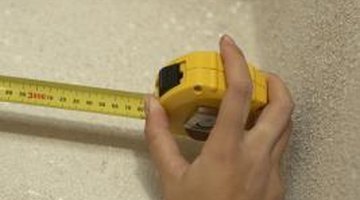 Step 1
Gather the sheets you will be using. Wash and dry them as you normally would. Wash sheets whether they are new or old.
Step 2
Find the center of the sheet that you will attached to the center of the ceiling or beam. If you are using multiple sheets, gather the corners of each sheet that you will attach to the ceiling.
Step 3
Staple the center of the sheet -- or the corners of several sheets that will make the center -- to the ceiling or beam with a staple gun.
Step 4
Stretch the sheet across the entire ceiling area and secure the sheet with staples at each corner. Add staples every six inches along the ends of the sheet. Alternatively, let the single sheet or multiple sheets drape in the middle instead of stretching the fabric flat for a dramatic look.
References
Tips
Instead of staples, use fabric glue to attach the sheet to the ceiling.
Choose colors and designs that you find pleasant and will complement the look of the room.
Writer Bio
Amanda Flanigan began writing professionally in 2007. Flanigan has written for various publications, including WV Living and American Craft Council, and has published several eBooks on craft and garden-related subjects. Flanigan completed two writing courses at Pierpont Community and Technical College.
Photo Credits
Pixland/Pixland/Getty Images
More Articles