How to Disassemble a Vertical Filing Cabinet
Vertical file cabinets are common sights in offices and in some homes. These cabinets can hold numerous documents while also saving floor space due to their narrow construction. If you need to disassemble these cabinets for any reason, such as to conserve space in a scrap metal bin, or to replace worn drawer glides, you can do so easily with the right tools.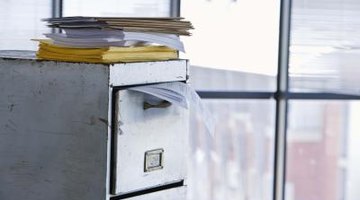 Step 1
Put on safety glasses. Lay a blanket on the floor to set the disassembled parts on, to protect them from damage if you wish to reuse them.
Step 2
Remove everything from the drawers.
Step 3
Remove each drawer, one by one, by pulling the drawer out and detaching it from the slide. Depending on the model of file cabinet, you may do this simply by pressing against the sides and lifting up on the drawer to pull it off the track. You may also notice steel or plastic tabs that you must press out of the way to fully remove the drawer.
Step 4
Unscrew the slides attached to the drawers, using a manual or power screwdriver with a Phillips head.
Step 5
Remove the handles from the drawers, if you choose. The screws may be located in the exterior or interior side of the drawer.
Step 6
Shine a flashlight in the interior of the cabinet to locate the screws or bolts attaching the drawer slides to the interior. Use a screwdriver, a socket wrench or an adjustable wrench to remove the screws or bolts. Lay the cabinet on its side when you do the lower areas, for easier access.