How to Troubleshoot Noises on a Propane Gas Range
Propane gas provides fast and even heat, making it an ideal energy source for ranges. Most modern propane gas ranges use electronic ignition systems, making lighting a matter of touching a button or turning a knob. However, this system can cause several noises that may or may not be part of normal operation. Troubleshooting can help determine if the noise your propane gas range is making is part of normal operation or if you need to make a call to a technician.
Pops, Pings, Whooshes and Snaps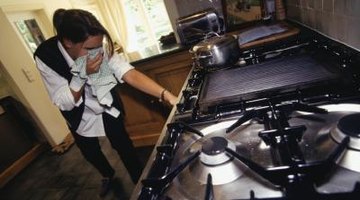 Step 1
Turn the burner off if you've just cleaned it. If moisture has contacted the switches or igniters, they may pop or click intermittently until they dry.
Step 2
Dry the burners with a hair dryer on its lowest setting to speed the drying process, or wait several hours for the switches and igniters to dry on their own.
Step 3
Wait a few minutes if your range is part of an oven unit that is switched to a bake or broil cycle. Whooshing, pings, snapping or popping is normal as the burners ignite and the metal expands with heat.
Clicks
Step 1
Check the controls or knobs that run the burners to ensure they're turned to the "Off" position. Some burners may require that the knob pops back out to ensure they are off. Clicking from multiple burners on a propane gas range is normal, even when you light only one. This is because most gas ranges operate from a single or dual igniter that operates more than one burner.
Step 2
Allow the switches and igniters time to dry if you've just cleaned your gas range. If these become wet, they may click intermittently.
Step 3
Contact a qualified technician to inspect your stove if clicking persists when the unit is dry or turned off or if you hear the clicking after igniting the burners. The switch or igniters may be malfunctioning and could require repair or replacement.
Noisy Flames
Step 1
Turn off the stove, and allow the burners to cool for about five minutes.
Step 2
Dislodge clogs in the burner ports using a paper clip or a metal pin. Do not use a toothpick or anything that might break off inside the port. A noisy flame can indicate that the ports are clogged with dirt, debris or grease.
Step 3
Make sure the burner caps are positioned properly. If they are not seated properly, this can cause a noisy flame.
Step 4
Contact a service technician if the flames are yellow as well as noisy. If your range was converted from another type of gas to propane, the conversion may not have been done properly.
Hissing
Step 1
Shut off your range and all other appliances, such as radios or televisions. If you hear a hissing noise near the range, gas pipes or the storage tanks, this indicates a leak.
Step 2
Wait a few minutes to allow the gas from the burners to dissipate. If you detect a foul odor after the stove has been turned off for more than a minute, you may have a gas leak. Propane has a distinct odor that should disappear within moments after shutting the range off. If there is a leak somewhere in your lines, the smell, even if faint, will be persistent.
Step 3
Turn off the main gas supply, and leave your home at once if you detect a leak. Contact a qualified technician or the fire department on a neighbor's phone.
References
Writer Bio
Renee Miller began writing professionally in 2008, contributing to websites and the "Community Press" newspaper. She is co-founder of On Fiction Writing, a website for writers. Miller holds a diploma in social services from Clarke College in Belleville, Ontario.
Photo Credits
David De Lossy/Photodisc/Getty Images
More Articles