General Bearing Failure Troubleshooting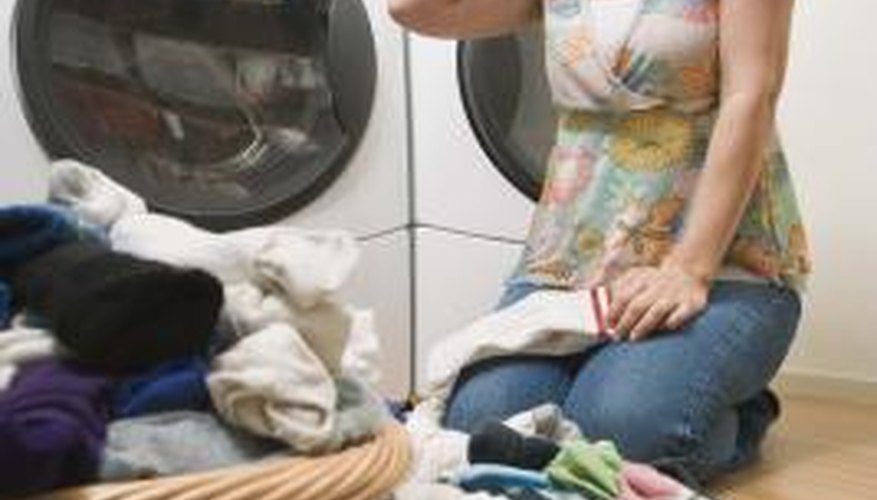 Other signs that the bearings have gone bad are not as obvious. Bearing failure in front-load and top-load washers have some signs in common, while other signs are specific to the model type. Certain noises at certain times during the wash cycles, along with the behavior of the washer when you operate it manually, is one simple means of diagnosing washing machine bearing issues.
Step 1
Run the front-load or top-load washing machine through the longest wash cycle with a full load of clothes.
Step 2
Listen for a high-pitched whining or squealing, or a loud rumbling, during the spin cycle. This noise is an indication that the bearing are beginning to fail.
Step 3
Watch for the machine to enter the spin cycle. If the tub fails to rotate during the spin cycle, or it spins but not hard enough to remove the water from your clothes, the spin bearings have seized and need replacing.
Top-Load Washer Bearing Failure
Step 1
Unplug the washing machine from the wall outlet. Pull the washer from the wall far enough to tip it back against the wall to gain access to the bottom of the washer and the belts.
Step 2
Lean the washing machine back against the wall. Have an assistant hold the washer to keep it from falling. Pull the front pump belt off the pump pulley and motor pulley as you rotate the belt to access the drive belt. Rotate the drive belt as you pull it from the motor and agitator pulleys.
Step 3
Lower the washing machine to the floor. Open the washer lid and attempt to spin the washtub by hand. Should a rumbling noise occur when you're spinning the tub, the drum bearings have failed.
Front-Load Washer Bearing Failure
Step 1
Unplug the front-load washer from the wall outlet.
Step 2
Open the washer and grab the lower lip on the washtub. Attempt to lift or rock the tub up and down or back and forth. If the drum moves, the rear bearing is failing and needs replacing.
Step 3
Rotate the drum by hand. If this results in a loud grinding noise, the rear bearing needs replacing.