How to Reconstruct a Sofa
A sofa can take on a completely different personality by modifying certain design features such as the shape of the back, arms, legs and skirt (or lack of it.) If the frame and springs are sound, and the upholstery filling is of good quality, upholstery modifications will create an updated look at a fraction of the price of buying a high quality new sofa. In addition to the inherent green value of recycling a piece of furniture, you can use green materials such as natural fibers and renewable wood to make sofa reconstruction an earth friendly project.
Sofa Reconstruction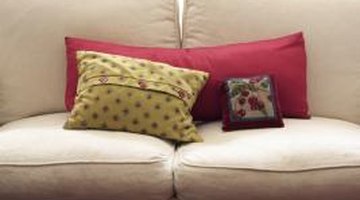 Step 1
Evaluate the frame and springs. Coil springs are a sign of quality, but may need to be retied to create a comfortable and attractive new look. A heavy frame also signifies quality that will withstand the stress of additional service, making reconstruction a viable project.
Step 2
Plan frame modifications to give the sofa an updated look, and to increase comfort. For example, raise or lower the sofa back, and widen, trim or roll the arms. Modify the sofa feet and legs. Add bun feet or pedestal feet. Raise or shorten legs, or cover them with upholstery fabric for a custom effect. Visiting a furniture showroom will help you visualize different upholstery styles and gauge their comfort.
Step 3
Select a high-grade upholstery fabric with color and texture appropriate for the space and the intended use for the sofa. Because the sofa is usually the largest piece of furniture in the room, a neutral color and a subtle texture are safe choices, however, stunning patterns can create flair.
Step 4
Re-shape the upholstery underpinnings, adding down, foam, bamboo or synthetic fiber wrap to plump up cushions and shape arms and back. Deep, thick seat cushions and loose pillow backs are contemporary styles that can be incorporated into re-upholstery projects.
Step 5
Add or remove a sofa skirt, or make a shallow, tailored skirt deeper and fuller.
Step 6
Accent the selected upholstery fabric with throw pillows in a complementary fabric, with self-piping or contrast piping, or with tassels and fringe.
References
Tips
Working with a skilled professional upholsterer to achieve the desired effect is a good approach for sofa reconstruction, but be sure to get cost estimates before beginning the project.
Warnings
While it is possible for an amateur to complete a sofa reconstruction project, prior experience and training in upholstery work is essential for a professional result.
Writer Bio
Melanie Aves has more than 30 years writing experience. Aves coauthored four interior design color books, authored a book on Newport Beach, California, wrote newspaper features and currently writes monthly magazine features. She holds a Master of Arts degree, a certificate in interior design, and completed post-graduate studies in journalism.
Photo Credits
Goodshoot RF/Goodshoot/Getty Images
More Articles