How to Put Hinges on a Window Seat Lid
A window seat is a comfy place to while away an hour with a book or handy extra seating when you have company, but it does occupy a considerable amount of space, and in a small house that can sometimes be hard to give up. By hinging the lid, you gain a convenient storage area inside the box and get all the benefits of the window seat besides. A piano hinge is strong and prevents cupping or warping of the lid.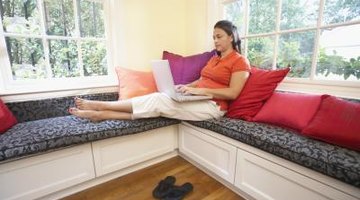 Step 1
Measure the back edge of the window seat lid to get the correct length stainless steel or brass piano hinge you need. The thickness of the lid determines the width of the hinge. For example, if your lid is 3/4-inches thick, you need a 1-1/2-inch-wide piano hinge.
Step 2
Turn the window seat lid over so the back edge faces up and the underside is toward you.
Step 3
Open the piano hinge flat and align the edge of one half of the hinge along the edge of the lid with the unsupported half of the hinge toward you. Use the supported part of the hinge as a template to mark the positions for screws by penciling a dot inside each hole along the length of the lid.
Step 4
Use a 1/16-inch drill bit to drill pilot holes for the screws at each marked point.
Step 5
Replace the hinge in the same position so all the pilot holes are visible trough the hinge holes, then fasten a screw through one end. Carefully align the opposite end and put in another screw, then continue adding screws in a line from one end to ensure the hinge stays straight.
Step 6
Place the lid on top of the window seat and align it properly, then open it and, holding it carefully in the correct position, use the unfastened half of the hinge as before as a template for drilling the pilot holes for attachment to the window seat box.
Step 7
Drill the pilot holes, then attach the lid to the box using the same sequence for fastening the screws in place.