How to Program a Woods Outdoor Digital Timer
Table of Contents
Learning how to program your Woods outdoor digital timer will ensure that you have control over your outdoor lights and appliances. Check out this guide to find out how to program your timer today.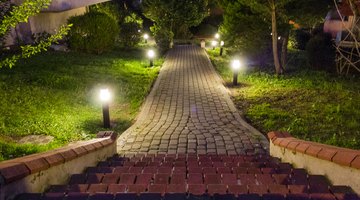 Having an outdoor digital timer gives you control over when your outdoor lights and appliances go on and off and you can set multiple on/off programs for different days of the week. Any type of outdoor lighting could use a timer. Whether it's your garden lights, lamp posts or the security flood light over your garage, outdoor digital timers help ensure you're never in the dark.
A Woods outdoor digital timer is a dual-outlet timer with a 2-foot cord, a grounded plug and a weatherproof housing designed to withstand exposure to the elements. This timer is designed to turn on and off outdoor equipment, such as landscape lighting, holiday displays, appliances and fountain pumps. It can also handle heavy-duty applications, such as switching on electric motors up to 1 horsepower. The Woods outdoor digital timer also features a digital liquid crystal display and can be programmed to actuate as many as seven on/off events daily.
Your Woods outdoor digital timer can be used for a variety of appliances and yard features. You can set the timer for pools and spas, water heaters, fountains and waterfall pumps, and even your sprinkler system. In addition, when the holidays roll around, outdoor timers are very useful devices to have.
Things You Will Need
Woods digital timer
Fresh batteries on hand
Step 1: Access the On/Off Setting.
Press the PROG button once. This will automatically display the first On/Off setting.
Step 2: Set the Desired Time.
Press the minute and hour buttons as necessary, to the desired time. If you need to change from am to pm, toggle 12 times.
Step 3: Change the Day Setting.
If needed, press the DAY button to choose the day or group of days that you want. Once you've selected the correct day(s), press the PROG button again to display the On/Off setting. Select OFF.
Step 4: Repeat.
Repeat this process to create the OFF setting, and repeat Steps 1 through 3 for additional On/Off settings.
Step 5: Exit This Mode.
To exit the program setting mode, simply push the CLOCK button.
Tip
Always check the specifications of your timer for the maximum wattage that it can withstand before using it to control your lighting or outdoor device.
Outdoor digital timers are easy to program, and they always come in handy. Whether you're using your Woods timer for holiday lights, garden or pool lights, or your security system, being able to control your outdoor lighting is very convenient.
References
Writer Bio
Justine Harrington is a writer and editor based in Austin, Texas by way of Oklahoma. Find out more at www.justineharrington.com
More Articles