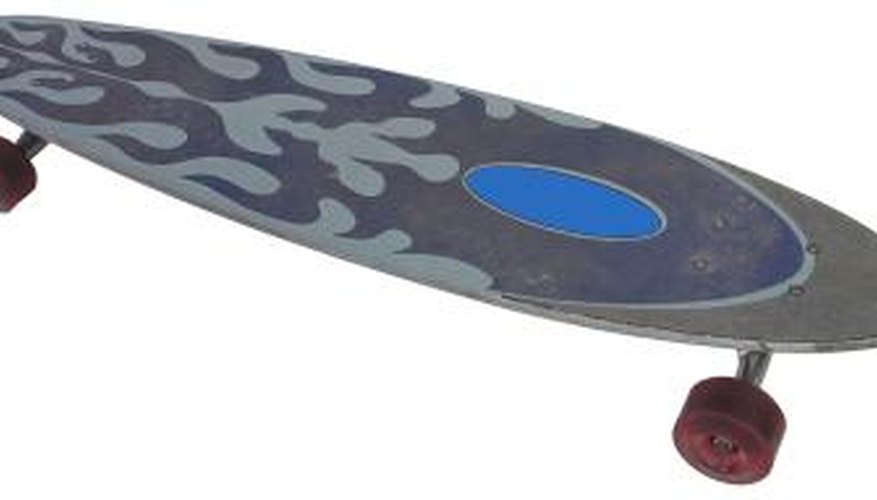 You can mount a deck to your wall with any homemade combination of hardware and wood blocks or wire, but a prefab deck hanger is much cleaner, and probably more secure. One of the easiest hangers to install has two long integrated bolts for mounting the board through the existing truck hardware holes and mounts to the wall with a single screw and hollow-wall anchor.
Step 01
Determine the location for your deck(s). If you're hanging more than one, It looks nice to have a few decks mounted together, but you can also have them spaced apart on the same wall with other framed pictures or photos in between. Don't mount the boards too high on the wall; you want to be able to look straight at them. Or you can mount one horizontally over a door or hallway opening. Mounting horizontally requires two hanger kits.
Step 11
Mark the hanger location by holding each deck on the wall in the desired position, then making a pencil mark through the two uppermost truck hardware holes, onto the wall. The hanger will mount at the same height as the hardware holes. To mount a deck horizontally, mark the two pairs of holes that are highest on the wall.
Step 21
Position the hanger base so the integrated bolts are aligned with the hole markings, then make a mark for the center hole on the hanger base. At the center mark, drill a hole in the wall for the hollow-wall anchor, using the size of drill bit recommended by the manufacturer.
Step 31
Install the hollow-wall anchor; some screw into place, and others drive in with a hammer. Secure the hanger base to the anchor with the provided screw. Fit the board onto the two bolts of the hanger and secure it with the provided nuts.
Things You Will Need

Skateboard deck
Skateboard deck wall-mount hanger kit
Drill