How to Convert a Closet Into an Office
The convenience of working from home is offset only by the loss of your dining room table or the cascade of files, samples, folders and tech gear layered over most of your living room. You may not have a spare room to dedicate to a home office, but you can give up a closet. When your work is organized in one place, you develop better, lower stress work habits. And you don't need all those power suits to work from home, so remove the hangers and set up the computer.
Peripheral Real Estate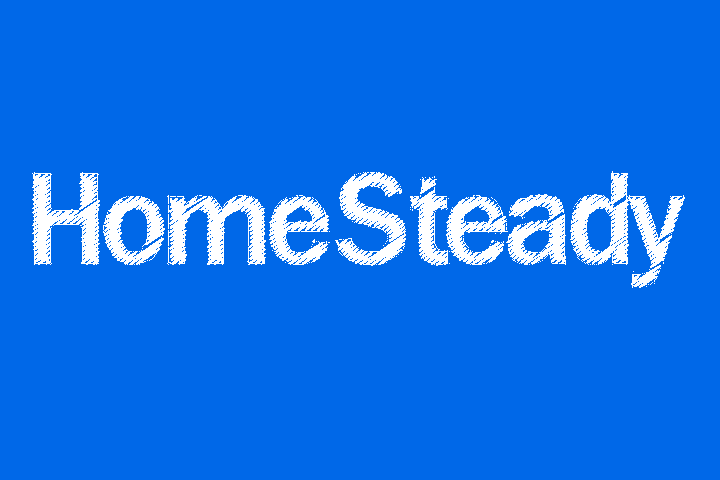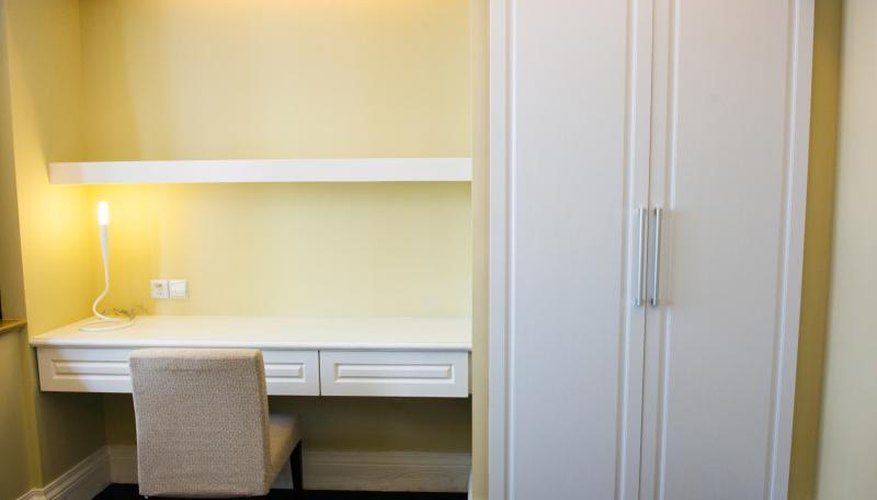 Instead of opening the coat closet near the front door to grab your go-to-work trench coat, skip the commute and settle down to work right there. The hall closet is removed from noisy nerve centers in your house and might offer perks like a deeper space or upper shelves, as well as a door you can close. Remove the hanging bar but leave the high shelf for supplies, and install a piece of plywood for a desk. Paint the whole interior in a low-gloss pale color or white -- no office should feel cramped and depressing. Run a power cord into the closet and attach a power strip under the desk to plug in all your technology. A mounted overhead light or a desk lamp provides illumination, and a small chair on wheels rolls right under the desk when it's time to sign off for the day and shut the door.
The Writer's Retreat
Commandeer a deep closet anywhere in the house and transform it into a research and writing center for your path-breaking nonfiction or bestselling sci-fi series. Remove all rods, hardware and shelves and replace them with sturdy floor-to-ceiling bookshelves with one cut-out section to accommodate a fold-down or pullout work surface and task lamp. A double-duty wooden stepladder that flips into a chair lets you reach the books on the top shelves as well as sit at your desk to scribble away. Cover the floor with a scrap of antique oriental carpet to evoke the grandeur and hush of a bespoke library. A heavy damask drape that pulls across the doorway may be pulled back to reveal the library tableau, even when you are not working.
Work in Your P.J.s
You don't really need that spare bedroom closet, but it would be nice to get the office paraphernalia out of your bedroom. So remove the folding closet doors and separate them. Reattach them, one to each side of the closet doorway, so they open out for access to your skinny new office. Line the inside of the doors with cork bulletin boards. Stack necessary technology on shallow shelves over a deeper desk-shelf and deputize an attractive upholstered chair from the bedroom to slide over to the closet-office when you're working. It's a small space, so splurge on really appealing wallpaper to cover the interior. Invest in compact but powerful technology to save space and keep the work area from feeling cluttered. Move the chair back into the bedroom and close the double doors to make the office disappear.
The Mogul's Nerve Center
Your walk-in closet now runs your global empire -- well, you do when you are ensconced in its elegant depths. Treat a walk-in or pantry closet like a room, with painted or stained shelving, matching storage containers, carpet for insulation and to muffle extraneous noise, overhead and task lighting -- most walk-in closets are already wired for lighting. You'll probably have the space for a mini conference table or a work station for creating models or samples, in addition to a wall-mounted desk surface for the computer and related technology. If your business involves activity that requires spreading out, dedicate the area adjacent to the closet to a work table and add rolling carts for hanging fashion samples or art prints, and for moving a sewing machine or photography gear in and out of the closet itself. The extra table serves another purpose -- dining, decor display -- after hours.