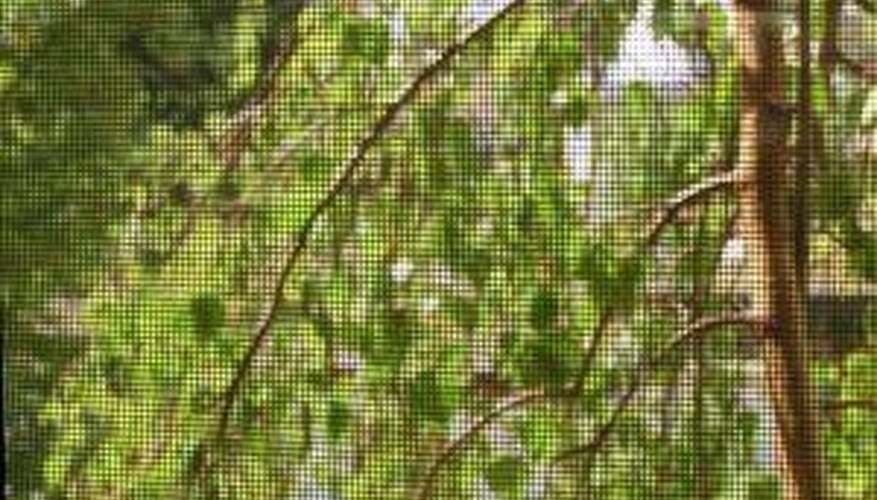 They may not be a part of your windows in a very old house either. But when spring comes, everyone wants to open their windows and get some fresh air without bugs. Making wooden screens for your windows is a project that just about anyone can do. Give yourself an hour or two per window and you'll have screens in no time.
Measure your window opening and cut the wood for the frame. You will need 2 pieces the length of the opening and 2 pieces the height of the window minus 4 inches.
Lay the two long sections down and put the short sections between them on the ends. Place some wood glue on ends of the joints and put them back together. Place the flat metal straps on the ends so that one end is on one piece of wood and the other end of the strap in on the other end of the wood. Screw them on with small metal screws. Be careful not to screw too close to the side of the wood or you might split it.
Lay the screening material over the frame and cut 1 inch larger than the frame. Place a bead of household glue around the frame of the screen (the side that has the metal straps) and center the screening material over the frame. Press screening down on the glue.
Bend the frame slightly in the center of the short boards by propping it against a wall. Using a staple gun, staple the screen all the way around the frame, right over the glue. The staples will keep the screen attached while the glue will keep any gaps from forming. Bending the frame will ensure the screen is on tight.
Trim off any excess screen outside the staple line, allow the glue to dry completely and place in the window. Pull the glass window down on top of the screen frame. This will hold the window in place until you want to close the window. Installing the screen permanently will depend on the type of window you have. It may have to be screwed into the frame on the outside of the window if it gets in the way of the operation of the window on the inside.
Things You Will Need

1 x 2-inch wood strips Screening Flat metal straps Wood glue Staple gun Staples Drill Small screws Metal scissors Household glue Utility knife