How to Measure a Recliner for a Slipcover
Whether you want to save a recliner with ripped, stained or damaged upholstery, or just change the look of your furniture, a slipcover is a quick and easy way to do it. In order to get the best look and lengthen the life of the slipcover, it's important to measure correctly and get the right size slipcover for your recliner. Here's how to measure a recliner for a slipcover. Be sure to keep track of all of your measurements.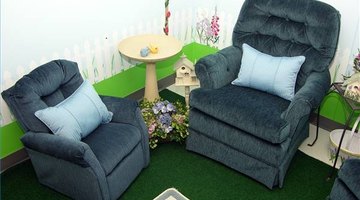 Measure around the back of the recliner, placing the tape evenly just above the arms and all the way around the back. Write the measurement down. Many slipcovers use this measurement alone to determine size. Other slipcovers will require additional measurements.

Measure across the front of the seat cushion. Whether it is a t-style cushion or a box cushion, measure across the widest part of the very front.

Measure the depth of seat cushion from the front center of the cushion to the back of the cushion.

Measure the height of the chair from the floor to the highest point of the back of the chair.

Measure the width of the chair by measuring straight across the top of the back, from one edge to the other.
Tips
If you can find someone to help, it is easier to have one person hold one end of the measuring tape in place while the other makes the measurements.
Warnings
Don't squish or squeeze the cushion or fabric of the chair when taking the measurements. The measuring tape should be taught, but not squeezing the recliner.
Photo Credits
More Articles