How to Clean Wedgwood China
Wedgwood produces some of the highest-quality ceramics in the world, and its products have been esteemed by collectors for hundreds of years. Wedgwood's porcelain china is often given for special occasions and used for special event dining. While Wedgwood china is precious and often extremely valuable, it is also durable and sturdy. In fact, many Wedgwood patterns are perfectly safe in the dishwasher. Other patterns use delicate materials, paints and glazes and should not be put in the dishwasher. Check the bottom of your dish or the original packaging for dishwasher instructions. Whether you are washing by dishwasher or by hand, there are a few tips you should know before cleaning your Wedgwood china.
Washing Wedgwood by Hand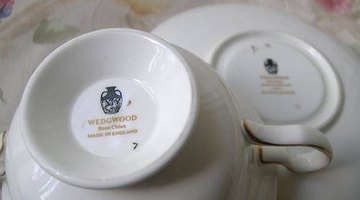 Put a dishtowel on the bottom of the sink to prevent accidental chipping while washing. Do not pre-soak all the dishes together in the basin.

Use medium-hot water and a soft sponge to wash each dish individually. Feel free to scrub on porcelain parts, avoid hard scrubbing on design details.

Hand dry each dish with a soft dishtowel.
Washing Wedgwood in the Dishwasher
Rinse the dishes with medium-hot water before putting them in the dishwasher to remove most of the food, especially since you are going to be a using the lightest setting for the cycle.

Put gentle dishwasher detergent into the dishwasher.

Put dishes in dishwasher, make sure they are separated and do not touch each other.

Set the dishwasher to "gentle," "light" or "china." Do not use the heated dry setting.
Check out this related video from Homesteady on Youtube.
Tips
Additional care instructions are at the Wedgwood website (see link in Resources).
Writer Bio
Deborah has been creating and managing web content for over ten years. She has a BA in creative writing from Sarah Lawrence College and an MFA in screenwriting from The American Film Institute. Her writing has appeared in the Netbook web guides, and she has created and managed content for Yahoo, ABC.com, and dozens of websites ranging from web comics to IBM and GE.
Photo Credits
More Articles