How to Care for Fiesta Dishes
You can keep your Fiesta dishes in great shape by following the tips for use and care provided by the producer of the pottery dinnerware. The Homer Laughlin China Co. introduced Fiesta dishes in 1936. Colored in bright red, yellow, cobalt blue, green, ivory or turquoise, they were an immediate hit. Fashion trends prompted a change to pastels and earth tones, but sales dropped and the company retired the line in 1972. It was reintroduced in 1986 following growing collector interest in old Fiesta ware. The new line has a lead-free glaze and included 38 colors in November 2010, with the company adding one new color a year.
Use and Care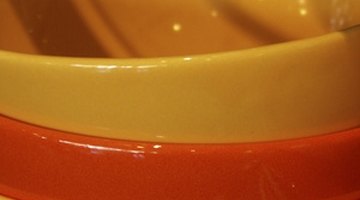 Set the oven temperature at 350 degrees or below when heating food on Fiesta dishes and at 500 degrees or below when using Fiesta bake ware. Be careful when taking Fiesta ware out of an oven or microwave because it can burn you. To keep Fiesta dishes from cracking or breaking, do not place them directly above or below open flames.

Wash your Fiesta dishes in the dishwasher to remove normal residue or wash them gently by hand with soft scrubbers.

Remove coffee, tea or juice stains by filling Fiesta cups or mugs with warm water and a drop of household cleanser that contains bleach. Let the pottery soak until the stains dissolve, then wash them as normal.

Remove gray marks on Fiesta plates with a porcelain cleaner or copper cleaner. The marks result from metal flatware coming into contact with the dinnerware's ceramic glazes. The Homer Laughlin company recommends using Wright's Copper Cleaner to remove them.
References
Tips
You can place Fiesta dishes in the oven, microwave or freezer without damaging them.
Writer Bio
Joey Ricardo has written online articles about organic living, gardening and society since 2007. Ricardo won a spring writing contest and was a finalist in the top five entries of a new author's contest. Bernard J. Rossi, author and poet, commended her writing skills and encouraged her to pursue her passion.
Photo Credits
cups and bowls image by John Sfondilias from Fotolia.com
More Articles