How to Care for Real English Ironstone
Some china pieces made by the now-closed Adams China Company bear the mark "Real English Ironstone." These pieces are made from ironstone – a clay mixture that's stronger than stoneware. Although ironstone china is stronger than stoneware, it's prone to cracking and staining under certain conditions. Taking good care of your Adams china pieces ensures that they'll last for many years to come.
Serving Food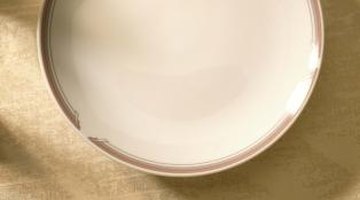 It's safe to serve food on Real English Ironstone china, but hot foods can cause cracks. Before serving hot food, warm the dishes for 10 to 15 minutes in an oven set to 175 degrees Fahrenheit. Don't serve any foods that are hotter than 200 degrees Fahrenheit on ironstone china. If possible, avoid using metal flatware with this china, since metal flatware might leave scratches and marks.
Washing
Remove food from Real English Ironstone china with a soft sponge, rubber spatula or warm water. Don't use rough sponges, such as metal sponges, or strong detergents, since these cleaners may scratch or strip the glazing on the china. To ensure that your ironstone dishes remain in good condition, wash them by hand and avoid using the dishwasher. When washing dishes, line the bottom of the sink with towels or rubber mats to prevent the dishes from breaking or cracking if they're accidentally dropped.
Stain Removal
To remove stuck-on dirt or food from Real English Ironstone china, use baking soda, warm water and a soft sponge. The baking soda scrubs off the dirt without scratching the china's surface. To remove stains, such as discoloration, place pieces in an airtight container containing 3 percent hydrogen peroxide for a few days. After removing the china from the container, place the pieces in direct sunlight until the ammonia vaporizes. Wash the dishes before placing them on display or serving food.
Storage
Real English Ironstone dishes may get scratched if they're stacked on top of one another. Instead, place soft towels, paper plates or cloths between dishes. Whenever possible, keep your china in a room or cupboard that's heated to a moderate temperature. Extreme cold or heat might cause the dishes to crack.
References
Writer Bio
Rupinder Dhillon is an electronic artist, sound engineer and professional writer, specializing in technology. Her research has been published by the Association for Computing Machinery and College Art Association. She holds a Master of Fine Arts in digital arts from University of California, Santa Cruz, and a Bachelor of Science in music technology from London Metropolitan University.
Photo Credits
Jupiterimages/Comstock/Getty Images
More Articles