How Do I Clean My CERAN Cooktop?
Eco-friendly CERAN cooktops are resistant to temperatures higher than 1,000 degrees F. These glass-ceramic cooking surfaces are made primarily of quartz sand, a natural material. CERAN cooktops do not contain harmful metals that are used to manufacture most other cooktops. These smooth, easy-to-clean cooktops are produced in a variety of designs and colors. CERAN cooktops are manufactured in Mainz, Germany, by SCHOTT, Inc., and are distributed throughout the United States by SCHOTT North America, Inc.
Recommended Cleaning Products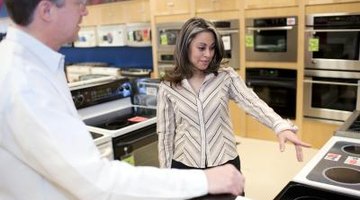 Purchase cleaning products recommended by the manufacturer to clean your CERAN cooktop. Use of any other products may scratch your cooktop surface. According to SCHOTT, the following cleaning products are safe for use on your CERAN Cooktop: ELCO/Weiman CookTop Cleaning Creme (www.weiman.com), Golden Ventures Cerama Bryte (www.ceramabryte.com) and Whirlpool Cooktop Cleaner (www.whirlpool.com/accessories). Purchase a metal razor scraper to remove stuck-on grime. The scraper will not harm your cooktop.
Light Cleaning
Clean your CERAN cooktop after every use. To remove simple spills, wait for the surface to cool before beginning the cleaning process. Pour a small amount of cleaning cream on a damp paper towel and wipe the cooktop surface until the soil and cream are no longer visible. The cleaning cream will leave a protective finish, which will preclude scratches and other types of damage.
Heavy Cleaning
Wear a heavy oven mitt to remove burnt foods or liquids while the cooktop is still warm. Use the metal razor scraper to remove the substances that are stuck to the cooktop surface. Once the cooktop has cooled, use a damp paper towel to spread a small amount of cleaning cream over the entire cooktop surface and wipe it thoroughly until the cream is no longer visible. Rinse the cooktop with water and dry with a clean paper towel.
Cleaning Melted Substances
Remove melted plastic, foil or other kitchen products immediately using the metal razor scraper. Spills containing sugar, such as ketchup, tomato sauce, syrup or pudding, must also be removed with the metal scraper at once. It is best to remove these substances while the burner is still hot. Once the melted substance has been removed and the cooktop has cooled, use a damp paper towel and cleaning cream to complete the cleaning process. To protect your hands, remember to wear a thick oven mitt when cleaning the hot cooktop.
Tips
Scratch marks resulting from daily use will not interfere with the performance of your cooktop. Pots and pans with flat bottoms and those that cover the entire burner surface are recommended for use on your CERAN cooktop.
Warnings
Spills containing sugar may permanently damage your cooktop unless the substance is removed immediately. Use only the recommended cleaning products on your CERAN cooktop to protect it from damage. Do not use scouring pads, plastic coated sponges or abrasive products of any type. Do not use oven spray or any other type of cleaner containing ammonia or chlorine. Clean all spills thoroughly before using your cooktop again.
References
Resources
Writer Bio
Susan Steen graduated from the University of New Orleans, where she earned a B.A. in sociology and a certification in social work. She has been a freelance and contract writer for 22 years. Her work has been published in "Evidence Technology Magazine," "Louisiana Bar Journal," the Cobblestone children's educational publications "Faces" and "Appleseeds," the Waterford Literacy Program, and a variety of websites.
Photo Credits
Creatas Images/Creatas/Getty Images
More Articles