How to Recoat a Self Cleaning Oven
Self-cleaning ovens work by heating the inside of the oven to a very high temperature (900 to 1000 degrees Fahrenheit), literally burning off all baked on residue. Every day wear and tear, time and some chemicals can damage the oven's coating, which is typically made from porcelain or ceramic. While it is not possible to recoat this surface, there are steps you can take to prevent damage to it. You can also attempt to have the oven cavity replaced (only available on some models).
How To Protect Your Self-Cleaning Oven's Coating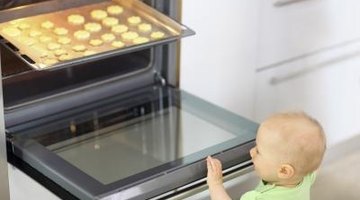 Avoid scratching the interior of your oven. Even small abrasions--such as those caused by steel wool pads--can lead to bigger problems down the road. Use soft, non-abrasive cloth to wipe down the inside of your oven.

Do not use chemicals unless they are specially designed for self-cleaning ovens. Some chemicals--even commercial-grade oven cleaners--can damage the porcelain or ceramic coating inside your self-cleaning oven.

Use natural options when cleaning your oven without turning on the self-cleaning option. Combine water and baking soda to create a paste, then leave it on the dirty parts of the oven overnight for best results. Vinegar is also a good natural cleanser, and is also effective at removing odors.

Place a piece of tin foil on the bottom of the oven cavity to catch spills. This will prevent baked on messes that can be difficult to remove. Make sure the foil does not touch any of the oven's heating elements as this could cause a fire.
References
Tips
In some cases, the coating on your self-cleaning oven may be damaged beyond repair. Contact the manufacturer of your model to see if they sell oven cavity replacements; not all companies offer this option. You can also call an appliance repairman to see if he or she is able to replace the oven cavity using spare parts.
An oven cavity is a major purchase, as it makes up a significant portion of the appliance itself. With new ranges costing as little as just a few hundred dollars, it may be more economical and a better use of your time to simply replace an oven with a worn out coating.
Warnings
Oven cleaner can be a fire hazard in a self-cleaning oven. Do not use under any circumstances.
Make sure your oven is always off--and the oven cavity cold--whenever you attempt to manually clean it.
Writer Bio
Elizabeth Falwell has been writing for the TV news industry since 2005. Her work has appeared on WXII 12 News, WMGT 41 News, NewParent.com and multiple parenting blogs. A graduate of the S.I. Newhouse School at Syracuse University, Falwell holds a Master of Science in broadcast journalism.
Photo Credits
altrendo images/Stockbyte/Getty Images
More Articles