How to Clean Cast Iron With Coke
Cookware, ovens, artwork and fencing are often made of cast iron. Cast iron cookware heats food evenly and adds iron to the food. When cast iron is not coated with oil or wax, it is susceptible to corrosive rust. Clean cast iron cookware that has developed rust before use to avoid transferring rust to food items.
Small Cast-Iron Objects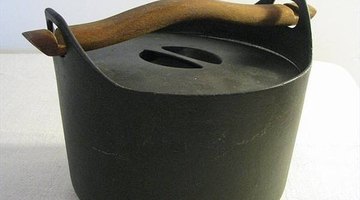 Pour 2 L. of Coke into a bucket, tub or sink.

Let the cast-iron object soak in the Coke for 24 hours.

Rinse the Coke off the cast iron with clean water. Dry the object with a clean cloth.

Apply a light coat of wax or vegetable oil with a clean, dry cloth to protect the cast iron from future rust.
Large Cast-Iron Objects
Set your cast-iron object on top of a tarp. It is best to clean your large cast-iron object in a garage or outside, as the cleaning process can get messy.

Pour Coke over the rusty spots of the cast-iron object. Let the Coke sit on the rust for 15 minutes.

Saturate a sponge with Coke and scrub the rusty spots.

If the rust remains, pour more Coke on the cast iron. Wait 15 minutes and scrub again. Repeat this process as often as needed until all of the rust is removed.

Rinse the cast iron with clean water. Dry the object with a clean cloth.

Coat the cast iron with wax or oil to prevent future rust.
References
Plant Foods for Human Nutrition (Formerly Qualitas Plantarum), Volume 51, Number 1, Dietary Strategies to Improve the Iron and Zinc Nutriture of Young Women Following a Vegetarian Diet; March 1997
Writer Bio
Rose Kivi has been a writer for more than 10 years. She has a background in the nursing field, wildlife rehabilitation and habitat conservation. Kivi has authored educational textbooks, patient health care pamphlets, animal husbandry guides, outdoor survival manuals and was a contributing writer for two books in the Uncle John's Bathroom Reader Series.
Photo Credits
Credit: Otto-Ville Mikkelä - Copyright: Public Domain
More Articles