How to Clean a Tumbled Marble Shower
Tumbled marble is an attractive, natural stone found in many bathtub and shower areas. The tumbled marble is also expensive, making it important to protect your investment by caring for the marble properly. Since you are cleaning the shower area, it's important to find a cleaning solution that will be safe for the marble, yet strong enough to wash away soap scum, body oils and other residue that develops on the marble shower.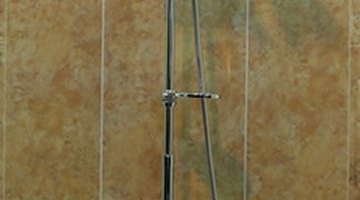 Pour 1 squirt of dish soap into a spray bottle with 3 cups of warm water. Twist the lid onto the bottle and shake to dissolve the soap.

Spray the soapy water over the entire shower, and let sit for 30 seconds.

Scrub the marble with a damp cleaning rag to remove buildup.

Rinse the shower with fresh water.

Dry the tumbled marble with a clean, dry cloth. Wipe in large, circular motions that will prevent water spots plus restore shine to the tumbled marble.
Warnings
Do not use acidic or chemically-based ingredients on your tumbled marble, as these will eat away the finish and sometimes even cause discoloration.
Writer Bio
Mel Frank is a professional freelance writer with over 15 years of writing experience. She has completed a wide variety of writing assignments for a number of publications that include CNN and various websites. Frank received a Bachelor of Fine Arts from a prestigious university in Pennsylvania.
Photo Credits
More Articles