Preperation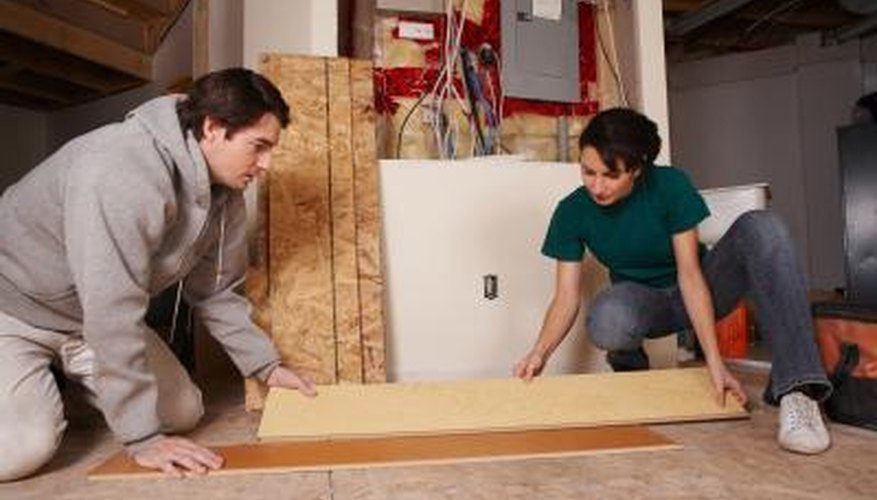 It's water-resistant, stands up to abuse, cleans with a mop and water, is easy to install and comes in many styles and colors. Most do-it-yourself enthusiasts can install the flooring in an afternoon. Installation under a dishwasher is simple.
Step 1
Unhook and remove the dishwasher.
Step 2
Remove any existing flooring material from under the dishwasher. Measure the thickness of the new laminate and underlayment pad to determine if you have to add material to the subfloor so the laminate and the flooring in the kitchen will be at the same level. If required, install the subfloor material as needed.
Step 3
Cut a piece of laminate underlayment pad to fit in the space under the dishwasher.
Step 4
Cut a piece of threshold molding, available at a flooring supplier, to fit across the front edge of the dishwasher. A miter saw works well for this. Use a marker to show where the laminate flooring needs to end so that it fits under the threshold molding. Mark this on the laminate underlayment pad.
Step 5
Move the threshold molding out of the way. Cut enough pieces of laminate to cover the space under the threshold. Use the length to the wall marked on the laminate pad and subtract one-fourth of an inch. This will be the length to which the laminate planks need to be cut.
Step 6
Cut the width of the last piece of laminate with a table saw to leave a one-fourth-inch expansion space between the cabinet and the laminate flooring.
Step 7
Snap the laminate flooring together in place under the dishwasher, leave a one-fourth-inch gap between the back wall and the laminate. Place the threshold molding over the ends of the laminate flooring and pre-drill a few holes along the length of the molding. Install with finish nails. Depending on the subfloor material, you may need to glue the threshold molding instead of nailing it.
Step 8
Move the dishwasher back into place and reconnect it.
Things You Will Need

Laminate flooring
Laminate underlayment pad
Miter saw
Tape measure
Hammer
Finish nails
Tip
Read and follow all specific directions and any precautions that came with the laminate flooring.