How to Raise a Card Table
You can use card tables for a variety of purposes. These tables are lightweight, fold and have enough room for four people to sit comfortably around them. Card tables also have a tendency to be lower to the ground than a normal table. If you decide to use a card table in your home for any reason, you can build your own leg extenders to get the height you need.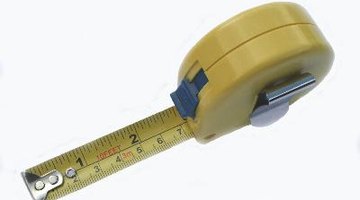 Step 1
Cut the PVC pipe into four even pieces with are two feet long each. Use the measuring tape and the pencil to mark the pipe. Use the pipe cutter or saw to make the cuts.
Step 2
Determine how much higher you want the table to be. Measure that distance from one end of one of each pipe section. Make a mark at that location. This location should be no more than of one-third the length of the pipe.
Step 3
Drill a hole through the pipe at that mark. Place a bolt through the holes on both sides of the pipe. Screw the nut into the bolt.
Step 4
Repeat this for all other pieces of pipe, measuring the height difference, drilling and securing the bolt.
Step 5
Place the extenders onto the table legs so that the legs are inside of the pipe and are resting on the bolts.
References
Tips
The PVC pipe must be between one half inch and one inch wider in diameter than the table legs. This will allow the PVC to easily slip onto the legs, but keep a snug fit to secure the extenders on the legs.
In order to hide the bolts, buy a longer table cloth that reaches the ground. This way, the table will look like its supposed to be that height.
Warnings
Make sure you place the legs into the longer end of the extenders tol keep the table sturdy and lower the risk of it collapsing. The bolts should be no more that one-third of the way up the pipe, or eight inches off the ground. Any higher and you run the risk of the table falling over.
Writer Bio
R.L. Cultrona is a San Diego native and a graduate of San Diego State University. She holds a Bachelor of Arts in theater, television and film with a minor in communications and political science. She began writing online instructional articles in June 2009.
Photo Credits
More Articles