How to Make Removable PVC Fittings
PVC piping can be used for a wide variety of projects that have nothing to do with plumbing. PVC is easy to work with, reasonably strong and can be easily disassembled for convenient transportation and storage, provided you connect pieces with removable fittings. The technique to make removable PVC fittings is simple and can be used with PVC pipes of just about any size.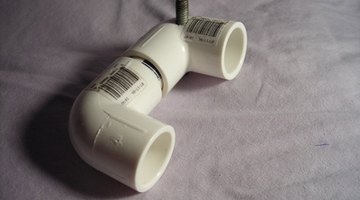 Fit the one foot piece of pipe into the coupler and press it in tightly.

Drill a hole through the center of the connection, such that you create a hole straight through both the pipe and the coupler. Be sure to secure the pipe firmly before drilling, to prevent it from turning on you. Preferably, use a vice to do so.

Insert the bolt completely through the hole and lock it in place by attaching the nut on the other side. If you have trouble pushing the bolt through, run the drill bit through the hole a few times to slightly widen it. The bolt will prevent the pieces from being pulled apart, yet will still allow you to disassemble the joint easily.
Tips
If the fitting does not encounter any kind of outward stress that can weaken the joint, you may be able to bypass the bolt entirely, and just use the natural snugness of the joint to keep it together.
Warnings
These fittings are not made to hold back water, and should not be used in pipes requiring such. Unless using a specialized screw-type fitting, water pipes should be permanently cemented in place.
Writer Bio
C. Taylor embarked on a professional writing career in 2009 and frequently writes about technology, science, business, finance, martial arts and the great outdoors. He writes for both online and offline publications, including the Journal of Asian Martial Arts, Samsung, Radio Shack, Motley Fool, Chron, Synonym and more. He received a Master of Science degree in wildlife biology from Clemson University and a Bachelor of Arts in biological sciences at College of Charleston. He also holds minors in statistics, physics and visual arts.
Photo Credits
More Articles