How to Remove Stickers From Stoneware
Stoneware has existed in some form or another since 500 B.C. It is a hard, non-porous, high-fire ceramic that falls between earthenware and porcelain. Back when it was first invented it was traded among the Chinese. Eventually, it became commonly used in Europe and, by the 16th Century, it was brought over by colonists to America.
With the advent of Capitalism, removing price stickers and the glue residue that they leave behind have become part of the purchasing process. Removing these stickers is an easy process.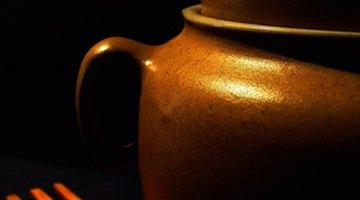 Remove as much of the sticker as you can.

Mix 3 tbs. water into 1/2-cup baking soda to create a paste.

Cover the remaining sticker with the paste and allow to sit for 15 to 20 minutes.

Scrub with a kitchen brush or nylon scraper.

Rinse the paste off with water.
References
Resources
Warnings
Do not clean stoneware with soap. This will leave behind a soapy-tasting residue and break down the seasoning process.
Writer Bio
Ellen Dean is a visual artist and painting teacher. She has been teaching and writing articles on art since 2001, and has been a professional artist since 1999, (ChadwickandSpector.com), after studying sculpture at Virginia Commonwealth University. She is an NYFA Fellow and was nominated by the Sovereign Art Award/Sotheby's Hong Kong, two years in a row.
Photo Credits
More Articles