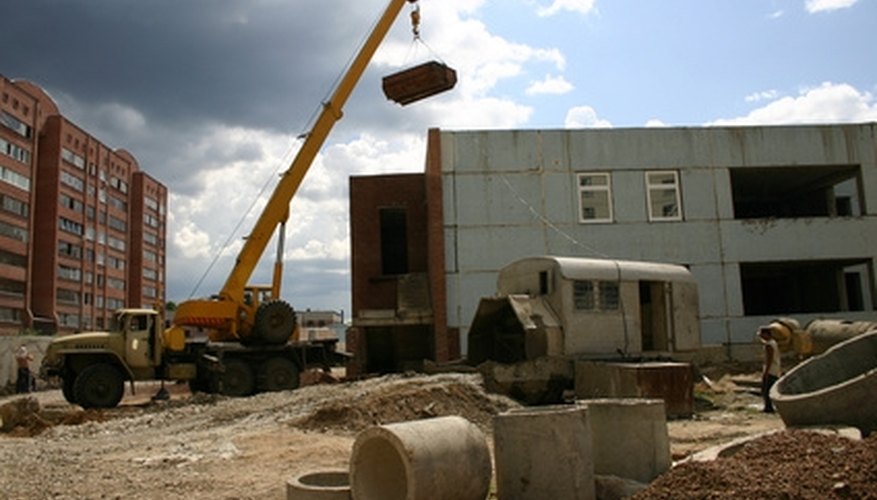 Without a detailed, accurate and concise construction project plan and schedule, your project can get quickly out of control. No matter what size your project is, you can apply the basic principles of how to plan a construction project to make sure that everything goes smoothly. Once you know the basics, you can get as detailed as you need to be to accommodate the needs of your project.
Draw six lines on your paper from left to right. You will need room between the lines to write, and it is best if you turn the paper sideways (landscape layout) so your lines are as long as they can be.
Label the lines as follows: "Section," "Materials," "Worker," "Sub," "Inspection" and "Permit."
Write the start date of your project on the left side of your page and the planned completion date on the right side.
Write down the order of construction of sections that needs to happen to complete the project on the line that is labeled "Section." For example, if you are building a garage, your line will have the following written on it: "Prepare site, excavate foundation, form foundation, pour foundation, construct frame, electrical, and finish."
Identify on the section line when (by what date) each part needs to be completed by for you to meet your project completion date. Identify what dates you can reasonably start each section as well. For example, you can start forming your foundation while you are still excavating it if you have enough of the excavation ready.
Go to the next line, "Materials," and write down what materials will be needed to complete each part of the section. Look at your materials delivery estimate sheet (this is the length of time between order and delivery) and write down the dates you need to place the orders so that each material is delivered in time for the start of the next part of the section.
Plan the "Worker" and "Sub" lines together. On these lines you need to put the available dates to gain the crews you need (carpenters, electricians, etc). You may be scheduling your own workers, or you may need to consult your sub-contractor schedule so you know when they have committed to be available for your project, or how much notice they need to schedule a crew. Make sure you write down the start and finish dates for the amount of time the crews should need to complete their jobs.
Do the "Inspections" and "Permit" lines at the same time, as you will get their information from the same source (your city, state or federal building departments). You need to know what permits are needed before work commences for each section (and the time frame for submitting the permit versus receiving it), and when inspections need to occur before you are allowed to go on to the next step (i.e., a form inspection before concrete is poured) and the time frame between calling to schedule an inspection and receiving one.
Look at all of your lines and the dates that are assigned to each part of each line. Sometimes it is helpful to physically draw vertical lines to separate out your dates, making almost a table out of all your information. Make adjustments as necessary to ensure that you have everything organized by date in the order it needs to occur to get each part done.
Find your float time. This is the most crucial part of how to plan a construction project. Your float time is the time in which you create a "cushion" of time in each part of the schedule. This cushion is what will allow you to stay on schedule for the entire project even if one part falls way behind. For each section, look at all the time frames and identify when is the earliest time it could be started and the latest it could be finished. When you are instructing your field managers and foreman, this is the guideline they will use to push the work. The more work they accomplish starting early and finishing before the latest finish date, the more of a cushion you have to accommodate days lost to weather or mishap. Consult with your foreman to come up with a realistic time frame for how fast he can push crews to do the work to help achieve this.
Things You Will Need

Pencil
Paper
Materials delivery estimate
Worker availability schedule
Subcontractor schedule (if applicable)
Inspection schedule
Permit schedule
Scheduling software (if desired)
Tip
Once you have your general plan on paper, consider using one of the many construction project scheduling and planning programs or templates available for the computer. Not only will this make it easier to update as you go, but you can simply email copies to your subcontractors and field managers, rather than print copies and have to distribute them by hand. There are some excellent templates available for Microsoft Word (many of them free) or for more advanced project needs, check out Microsoft's Dynamics software, a customizable solution for your project needs with full support.