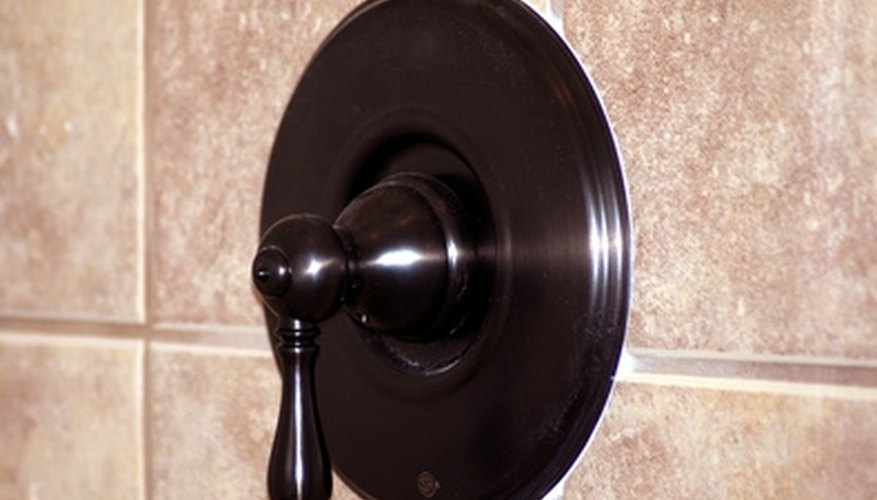 They also become darker over time due to the constant exposure of soap and grime. Stains occur because grout is porous, meaning that it will absorb materials that come in contact with it. This situation is what makes heavily stained grout hard to clean. Numerous chemicals are available to clean grout lines, but not all are successful at whitening the grout, and some are highly toxic. A non-toxic cleaner known as oxygen bleach will effectively whiten grout lines. You can purchase oxygen bleach at home remodeling centers or online.
Fill a 1-gallon bucket with hot water and add approximately 1/2 cup of oxygen bleach, or the amount that the manufacturer recommends. If you purchased the oxygen bleach from a home remodeling center, add an additional 1/4 cup to the water. This bleach tends to be weaker than commercial versions.
Remove the sprayer from the spray bottle and insert a funnel into the top of the bottle. Fill the spray bottle with the solution and replace the sprayer.
Spray the entire surface of the shower with the oxygen bleach solution and allow it to remain on the tile and grout for 20 minutes to 1 hour. Do not let the shower walls dry. Periodically check the shower and re-saturate the walls as needed.
Saturate a small 2 foot by 2 foot section of grout lines after 20 minutes has passed, and use a scrub brush or toothbrush to scrub the grout lines. Allow more setting time if the grout lines are not quite as clean as you want them to be.
Work on small sections of grout lines at a time, saturating and scrubbing as you work from top to bottom. Working from the top of the shower to the bottom will allow the grime to flow down over grout lines that have not yet been scrubbed.
Thoroughly rinse each shower wall with warm water after you scrub it. This will prevent grime from drying on previously cleaned grout lines while you are working on another wall.
Things You Will Need

Gallon bucket
Measuring cup
Stir stick
Funnel
Spray bottle
Scrub brush or stiff bristle tooth brush