How to Patch a Mattress
Even the sturdiest mattresses need a patch every now and then. If you start to feel a spring coming through the material or it has already broken through the fabric, you don't need to throw out that old mattress just yet. Just keep in mind that if one spring comes through, others surely are close behind. Keep a sharp eye out for any more springs that try to poke through the fabric next.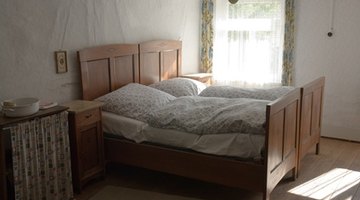 Remove all bedding from the mattress. It will only get in the way while you try to patch the damaged area.

Move your hand around the damaged area of the mattress. Search for any other springs that are ready to break through the fabric. This gives you an idea of how big your patch should be. Measure out the damaged area in a simple square.

Cut out a piece of fabric large enough to cover the damaged area of the mattress. You may want to make it a little larger than you think you need just to be sure it will effectively block the spring from coming through.

Slather fabric glue along the bottom side of the patch. Use clear fabric glue so that if any leaks from the underside of the patch, it will not tarnish the design on the mattress.

Smooth the patch over the damaged area of the mattress. Avoid causing any wrinkles in the patch if you can. Wipe away any excess glue that leaks from the sides of the patch. Leave the patch to dry for at least two hours before you put any weight on the bed. If you put weight on the bed before the glue dries, it may upset the patching process.
Tips
A heavy padded fabric patch is the best option. The thicker it is, the better it will suppress the spring.
Avoid using a needle and thread. It is hard to stitch the patch on without having access to the underside of the mattress fabric.
Writer Bio
Shae Hazelton is a professional writer whose articles are published on various websites. Her topics of expertise include art history, auto repair, computer science, journalism, home economics, woodworking, financial management, medical pathology and creative crafts. Hazelton is working on her own novel and comic strip while she works as a part-time writer and full time Medical Coding student.
Photo Credits
More Articles