How to Make Your Own Tin Panels for Kitchen Cabinets
Add a touch of country to your kitchen by making your own tin panels for your kitchen cabinets. This popular retro design adds detail and shimmer to otherwise monotone kitchen cabinetry. You can install your own by removing the inner panel of each kitchen door or by placing a tin panel over each door.
Plain or Decorative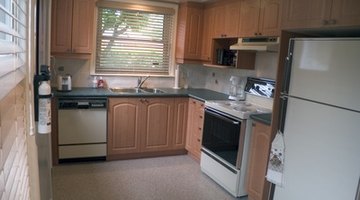 Choose between plain or decorative tin panels for your cabinets.

Measure the width and length of each panel. Transfer these measurements to the tin and use a washable marker or wax pencil to draw straight lines for cutting.

Cut the tin panels with sheet metal cutters.

Leave your tin panels plain or decorate them with your favorite design motif. Position the design paper on the tin and center it along the two sides and from the top and bottom.

Tap the tin punch into the tin--lightly if you want to just make an indent or harder if you want to punch through the tin. Create a dotted-line pattern along the lines of your design motif.
Replacing the Cabinet Door Panels
Remove the kitchen cabinet doors and lay the doors flat on your work surface.

Using a hammer, gently tap the edge of a wood chisel into one of the top seams of the cabinet door frame. Tap along the seam line until the pieces separate. Repeat at the bottom seam along the same side of the cabinet door.

Carefully pry out each central panel. Lay the panels over the tin panels and adjust the measurements if necessary.

Insert the tin panel into the grooves of the cabinet door frame.

Apply wood glue to the frame's joints and push the joints together. Tack each joint with a brad pneumatic nailer if necessary.
Install Panels Over the Cabinet Doors
Measure the width and length of each door's central panel. Cut the tin panel down to this size to fit over the cabinet door. If the door is flat, measure the central region for your tin panels, about three inches in from each edge.

Lay the tin panel over the cabinet door.

Use a miter saw to cut pieces of decorative wood trim with mitered 45-degree ends to frame the tin panels.

Overlap the tin panel's edges with the wood trim and nail into the cabinet door with the pneumatic nailer and brads.

Put painter's tape around the edges of the tin panel and stain or paint the decorative molding to match the cabinet door.
References
Writer Bio
Naima Manal's articles on health, diet, nutrition, alternative medicine, education, parenting, crafts, travel, home and garden and home improvement have appeared on various websites. Manal received her Bachelor of Science in biology/pre-medical studies from Molloy College in 1994 and has been a freelance writer, teacher and homeschooling mom since 1993.
Photo Credits
modern kitchen with cabinets image by redking from Fotolia.com
More Articles