How to Paint the Inside of an Aluminum Boat
If you would like to paint the inside of an aluminum boat, you will have to contend with two complications. First, because aluminum is a nonporous surface, it is not a good candidate for paint adhesion. You will have to apply a particular type of primer that will abrade the surface to promote adhesion. In addition, because the interior of a boat must stand up to a large amount of duress, you will need to coat it with a specific paint that is capable of holding up to high levels of friction without fading or chipping under stress.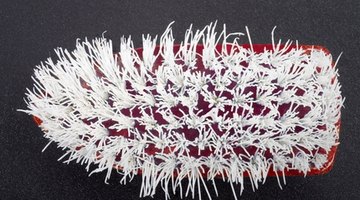 Work on a warm, dry day.

Scrub the interior of the aluminum boat with a degreasing agent. Rinse the surface thoroughly using a pressure washer. Allow the aluminum to dry.

Apply a coat of etching primer to the inside of the boat. Wash the brush with water. Allow the etching primer to cure for a full day.

Pour the epoxy resin into the 5-gallon bucket. Stir in the catalyst and continue stirring for no less than five minutes.

Apply the epoxy to the interior of the aluminum boat using the 4-inch latex paintbrush.
Resources
Tips
Do not use a bonding primer in place of etching primer to coat aluminum.
Use a marine-grade epoxy paint to prevent the risk of rust.
Warnings
Never attempt to coat the interior of an aluminum boat without washing it with a degreaser first, or you may have problems with adhesion.
Never attempt to paint aluminum without abrading it with an etching primer first, or you will have no chance at paint adhesion.
Writer Bio
Ryan Lawrence is a freelance writer based in Boulder, Colorado. He has been writing professionally since 1999. He has 10 years of experience as a professional painting contractor. Lawrence writes for High Class Blogs and Yodle. He has a bachelor's degree in journalism and public relations with a minor in history from the University of Oklahoma.
Photo Credits
More Articles