How to Troubleshoot a Whirlpool Dryer That Is Not Heating
A clothes dryer that breaks down suddenly can be catastrophic. Wet clothes take hours to dry without a dryer and sometimes they don't smell so fresh after that. If your Whirlpool dryer has decided to quit on you, one of the first things you can look at is the heating element. With a little know-how and a free afternoon, you may be able to repair your dryer without calling in the expensive professional who would do the same thing you might be able to do.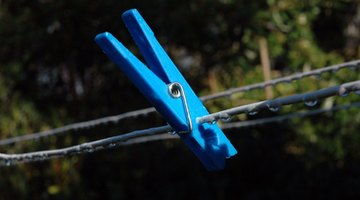 Step 1
Check the fuse box on your house. Most dryers use two different fuses, so it's possible the fuse controlling your dryer heat is blown, but the dryer is still turning.
Step 2
Remove the front panel of your dryer with a screwdriver by unscrewing the screws on the underside of the dryer. Look either towards the back left corner or the right front corner of the dryer and locate the heating element, which looks like a coil or a group of coils that resemble springs . Use a multimeter to check for electricity by turning it on and pressing one probe to the heating element and one probe to a screw somewhere else on the dryer. If there is no electricity, you must replace the heating element.
Step 3
Inspect the thermal fuse. This is located inside the dryer back panel of the Whirlpool at the exhaust tube. It looks like one-inch fuse attached to the panel with black resin, and if it has blown out it must be replaced.
Step 4
Replace the power cord to your Whirlpool dryer. If you still experience trouble, replace the terminal block inside the dryer that the power cord is attached to.
References
Resources
Writer Bio
Desdemona Delacroix has been working as a freelance author in her spare time since 2000, writing short do-it-yourself and current events articles. She holds a Bachelor of Science degree in psychology from the University of Maryland University College, and she occasionally offers tutoring services in writing to undergraduate college students.
Photo Credits
More Articles