How to Install a Hinge on a Drop Leaf Table
For dining rooms or kitchens that do not have a lot of space and occasionally need to accommodate company, a drop-leaf table is a useful item. Drop-leaf tables have hinged ends that you can raise or lower depending on the amount of table room needed. Table the hinges may wear out or fall out after several years of frequent use. Replacing the old hinge with a new one takes little effort, skill or tools.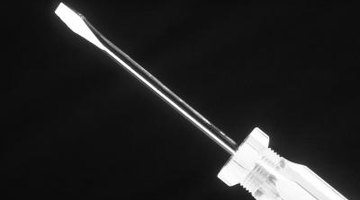 Step 1
Flip the table upside down and open the drop leaves so they are flat on the floor.
Step 2
Make a mark where the pin of the hinge is on the underside of the table to help you know exactly where to place the new hinge.
Step 3
Remove the old hinge if still attached. Use the screwdriver to take out all the screws and save the hinge in a plastic zipper bag to take to the hardware store with you.
Step 4
Go to the hardware store and purchase a new hinge that is a close as possible to the old hinge in size and design. Ask a store employee to help you if necessary.
Step 5
Keep the table upside down and open flat on the floor to attach the new hinge. Make sure your new screws are deep enough to securely hold the hinge to the underside of the table, but not too long that they go through the top. Install the screws using a screwdriver.
Step 6
Flip the table right side up and test the hinge to see if it is in the correct position. Adjust the hinge, if necessary, by removing it and reinstalling it in a slightly different position.
References
Tips
If the old hinge fell off the table because it was loose, you may want to fill in the screw holes with wood putty. Smooth some putty over the holes, making sure to fill them in completely. Allow the putty to dry and then sand the surface smooth before attaching the new hinge.
Getting the hinge in just the right place is a little tricky that is why it is so important to mark the old hinge pins before you remove it. Notice that the hinge is not right where the two pieces of wood meet.
Photo Credits
Hemera Technologies/AbleStock.com/Getty Images
More Articles