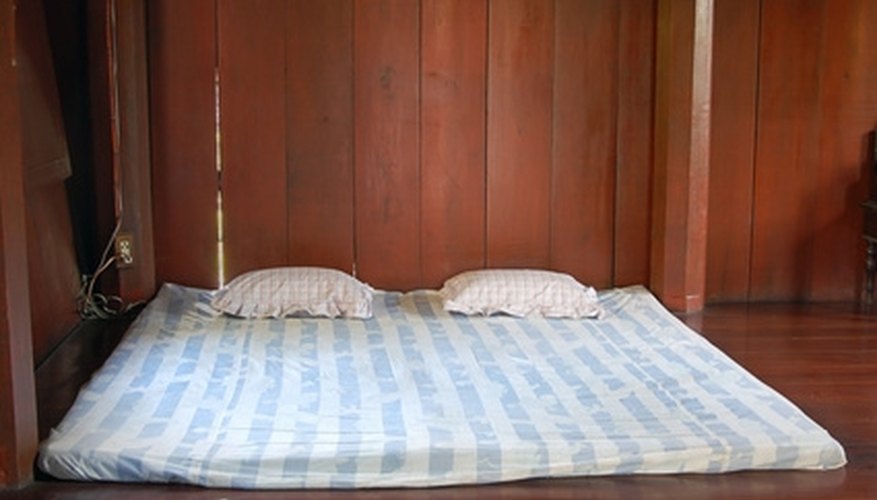 King beds are the largest mattress option, approximately 80 inches in length and 76 inches wide. Making your own bed frame is not as hard as it sounds and with a few tools you could make your frame in a couple of hours. Once you make the frame, dress it up with bed linens for a completed look.
Buy four sheets of plywood for the entire bed. Since each sheet is 4 by 8, you can cut the four frame pieces out of one sheet, the panels out of the second sheet and the plywood mattress support out of the remaining two sheets.
Cut the pieces for the bed frame out of the plywood using a circular saw. Since it is a king sized bed, you will need two pieces 80 inches long and 6 inches wide and two pieces 76 inches long and 6 inches wide to complete the box frame. Cut all four pieces out of one plywood sheet.
Assemble the four pieces to make a rectangular shaped frame and nail each corner together with a hammer and finishing nails. You may also use a nail gun if you have it to assemble the frame quicker. To ensure boards are secure, add nails to the top and bottom corners at a 45-degree angle to connect all boards.
Cut six planks out of the plywood to use as support within the box. The width measurements of the inside planks will vary depending on the wood thickness you choose, so measure before cutting for an accurate fit. To measure, place the tape on the inside of the longest portion of the frame and measure across to the opposite side. Cut your plank supports to that measurement on the second sheet of plywood.
Nail each of the planks to the frame, keeping planks approximately 16 inches apart to provide enough support to the king mattress. Nail the planks to both sides of the frame.
Lay down plywood over the support planks and nail down to the planks every 6 to 10 inches to keep the plywood from budging or creaking when in use. You will need to cut the remaining two plywood sheets down to size in order to fit the surface area. Since the sheets are 96 inches long trim it down to 80 inches and use the entire sheet to cover most of the surface. To finish covering the surface, trim the last plywood sheet to 80 inches by 28 inches and nail down.
Cover any nail marks on the outside bed frame with wood putty and allow to dry. Sand over the dry putty using a medium grit sandpaper and paint or stain the frame if desired.
Place the mattress onto the frame, using a partner if necessary. Cover with bedding.
Things You Will Need

4 sheets plywood (preferably birch)
Circular saw
Nail gun
Finishing nails
Wood putty
Sandpaper
Paint or stain