To Paint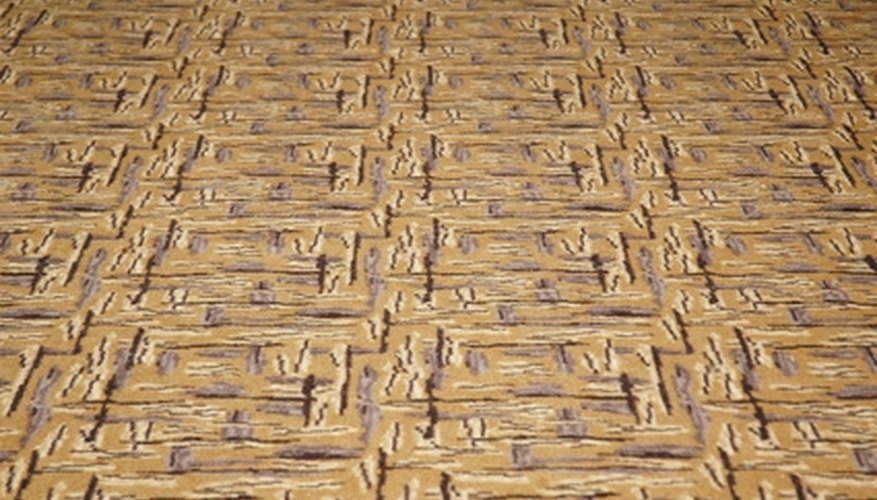 Luckily, two inexpensive options are available to homeowners that want to update their laminate countertops; painting and relaminating. Both updating options are less expensive than installing all new countertops and can be done by the homeowner to save even more.
Remove all items from the laminate countertop and clean it with soap and water. Wipe the countertop dry with a soft cloth.
Sand the laminate lightly with 150-grit sandpaper. Wipe off any dust with a cloth.
Place painter's tape along the edge of the laminate to protect the back splash, walls, cabinets and sink from paint. The tape will prevent accidental drips from ruining the other finishes in your room.
Apply a coat of high quality primer designed for high-gloss surfaces with a paint roller. Let the primer dry completely and apply a second coat.
Roll on a coat of semi-gloss paint once the second coat of primer has dried completely. Let the first coat of paint dry before applying the second coat.
Add 4 to 6 coats of polyurethane with a roller, allowing each coat to set at least 12 hours before applying the next. Polyurethane will give the laminate a shiny finish that adds durability.
To Relaminate
Sand your existing laminate to remove the gloss. This will allow the glue for the new laminate to stick to the old countertop.
Measure your current laminate countertop. Using the measurements, draw the shape of your countertop onto the laminate sheeting using a black marker. Place masking tape over the outline to keep the laminate from chipping and cut the laminate sheet along the outline using a table saw with a fine-tooth blade.
Apply contact cement on the backside of the sheet with a brush. Let the glue set until it becomes tacky. Spread contact cement on the old laminate using a brush. Lay wooden dowels 1 foot apart and place the new laminate on top of the dowels in the correct position on the laminate.
Remove the dowel closest to one corner and press the sheeting onto the counter top. Take out the second dowel and press the sheeting down. Continue in this manner until the entire sheet has been applied to the countertop. Secure the new sheeting to the old laminate by rolling a J-roller over the laminate.
Add laminate to the edges of the countertop in the same way you did above. Secure the new laminate sheeting with clamps until the glue sets.
Things You Will Need

Soap
Water
Soft cloth
150-grit sandpaper
Painter's tape
Primer
Paint roller
Semi-gloss paint
Polyurethane
Measuring tape
Black marker
Masking tape
Table saw
Contact cement
Paintbrush
Dowels
J-roller
Clamps
Tip
Ask a friend to help you when installing new laminate sheeting. You may need the extra set of hands.