How to Troubleshoot a Kenmore Washer Timer
Learning how to troubleshoot a Kenmore washer timer will only take a few minutes, and save you a service call from the appliance repair person. Unless you are an electrical technician, actually using the computer diagnostic equipment for a Kenmore washer is out of the question. There is, however, a simple set of procedures anyone can follow to troubleshoot a washing machine.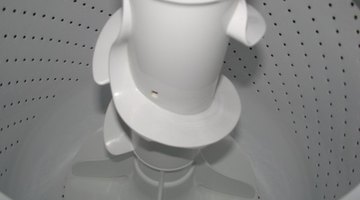 Turn the washer on by setting the timer button on wash, and then pull out on the switch. If nothing happens, make sure the washer is plugged in.

Turn the timer button to rinse. If nothing happens, make sure the lid is closed and the door switch is making contact; you should hear a click when the lid closes.

Turn the dial to spin and pull out the start button. If nothing happens, make sure the load in the washer is distributed evenly. Reset the water level to high.

Turn the timer dial to the delicate setting and pull out the start button. If nothing happens, reset the water level to low, and then try again.

Unplug the washer and reset the timer dial to its off position. Check for power in the electrical wall outlet with a power meter. If there is power in the outlet, you will need to replace the timer.
References
Resources
Tips
If your Kenmore washing machine is still under warranty, do not attempt to repair it yourself; call the Kenmore warranty service line first, or you may void the warranty.
Warnings
Do not work inside the washing machine until it is unplugged.
Writer Bio
Kelly Schuler is both a writer and a plumber. He self published "Plumbing Do's and Dont's" in 1999. Schuler has been a licensed plumbing and gas-fitting contractor since 2001 and a licensed journeyman plumber since 1986. He actively owned and operated his own plumbing and gas fitting business from 2001 to 2008.
Photo Credits
waschmaschine image by Stefan Häuselmann from Fotolia.com
More Articles